States hosting expanded NATO forces reduce own level of security – top Russian diplomat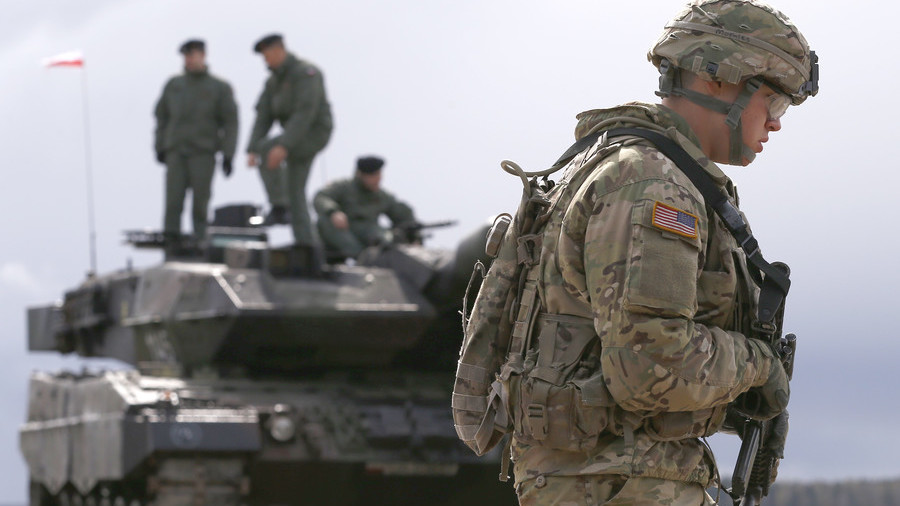 NATO's military buildup near Russia's borders dramatically worsens the security situations in countries where troops and equipment of the alliance are being stationed, First Deputy Foreign Minister Vladimir Titov warns.
"[I am] sure that the negative consequences of NATO's military preparations should spark serious concern among all [sides], as they worsen the security situation with regard to those states whose territories are being used to deploy NATO forces and assets," Titov said in an interview with Interfax.
On Russia's national security policies, the official said that Moscow's military doctrine ranks the NATO build-up "among the top military threats to the country." This includes military contingents being moved to nations bordering Russia, as well as "creating and deploying strategic missile defense systems," Titov said.
"These very steps have been undertaken by the alliance year after year in the framework of its policy of 'restraining' our country. In Europe, a bridgehead is currently being formed to deploy, should the need arise, an offensive grouping."
Moscow is also concerned about "the expansion of the alliance's naval and air-activities" close to Russia's borders, as well as the creation of "new military infrastructure" and the increase in "the scale and intensity of the exercises," he said.
"According to further plans to develop the US / NATO missile defense system in Europe, in addition to the already functioning facility in Romania, a similar missile defense base is set to be put into operation in Redzikowo, Poland, in 2018," Titov added. Earlier this month, Washington reportedly earmarked a whopping $214 million to build airfields, training sites, ranges, and other military installations in an unprecedented military buildup in eastern and northern Europe, targeting what the US has repeatedly called "Russian aggression."
The planned modernization of air bases located predominantly in eastern Europe near Russia's borders, as well as in Iceland and Norway, is a part of the $4.6 billion European Deterrence Initiative (EDI) aimed at "reassuring" NATO's European allies.
The funds will be distributed among nine bases in Latvia, Estonia, Slovakia, Hungary, Romania, Luxembourg, Iceland, and Norway to enable them to house top-of-the line US warplanes, the Air Force Times reported.
NATO has tripled its military presence on Russia's western borders over the past five years, forcing Moscow to take retaliatory steps, Russian Defense Minister Sergey Shoigu said last week.

"Four tactical groups of battalion level are a US armored brigade deployed in the Baltics and Poland, the staffs of international NATO divisions in Poland and Romania," Shoigu said, adding that the number of engagement-ready troops has grown from 10 to 40 thousand. The military bloc has also bolstered its aerial and naval surveillance activities. Over 30 drills are held each year near Russia's western borders, the Russian defense chief said, adding that their "scenarios are based on a military confrontation with our country."
While NATO continues its buildup in Europe, the US has violated the 1987 treaty on the elimination of intermediate-range and shorter-range missiles, Russian President Vladimir Putin recently said.

"Formally," America's missile-defense launchers now based in Poland are meant to counter threats, the Russian leader said. "The point is, and specialists know about it very well, those launchers are all-purpose. They can also be used with existing sea-launched cruise missiles with the flight range of up to 2,500 km [1,550 miles]. And in this case, these missiles are no longer sea-launched missiles, they can be easily moved to land," Putin said.
The Russian Defense Ministry "should take into account" Western military strategies, he said, noting that Russia has "a sovereign right and all possibilities to adequately and in due time react to such potential threats."
In November, Russia's envoy to NATO, Aleksandr Grushko, pointed out that NATO's plans to reform its command structure were modeled on schemes used during the Cold War.
You can share this story on social media: