Runaway private jet smashes into building (VIDEO, PHOTOS)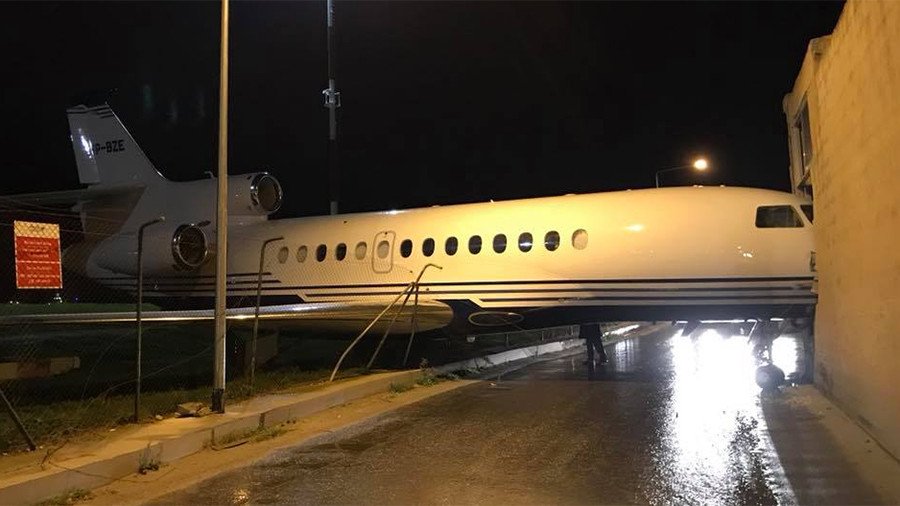 The owner of a private jet parked at Malta International Airport could be facing significant repair costs, after the Dassault Falcon 7x aircraft reportedly left its berth and crashed into a nearby building due to strong winds.
The sleek plane smashed through a perimeter fence on Wednesday night, and with no pilot at the controls crossed a public road before hitting a building belonging to the Polidano Group.
READ MORE: Siberia plane crash: Moment jet goes down, killing 3, caught on camera (VIDEO)
Dr Jean Paul Sammut, a legal advisor for the construction firm, told RT.com that the incident occurred just after 10pm local time.
Images taken from the scene show how the three-engine jet knocked over a wire fence separating the runway area from a nearby road. Pictures from inside the Polidano-owned building reveal significant damage to the plane's nose and undercarriage due to the collision.
"[The] building is unsafe for the time being and [the plane] damaged part of the concrete bricks plant," Dr Sammut told RT.com. He added that the full extent of the damage will not be known until the debris is removed.
The aircraft VP-BZE is registered to Flying Lion Limited, a flying company run by the son of former Conservative Party chairman, Lord Michael Ashcroft.
Malta International Airport have confirmed the incident, stating that the Dassault Falcon 7X was blown from its parking position at apron 4. No injuries have been reported.
READ MORE: 2 killed in San Diego after small plane crashes into house (VIDEO)
"The airport's Operations and Security teams were deployed to the scene immediately to safeguard the integrity of the Aerodrome and secure the airport perimeter," an airport spokesperson told Malta Today.
RT.com has contacted Malta's Bureau of Air Accident Investigation for further details on the incident.
You can share this story on social media: