Russia to deny US observation planes stopovers at 3 airfields amid Open Skies row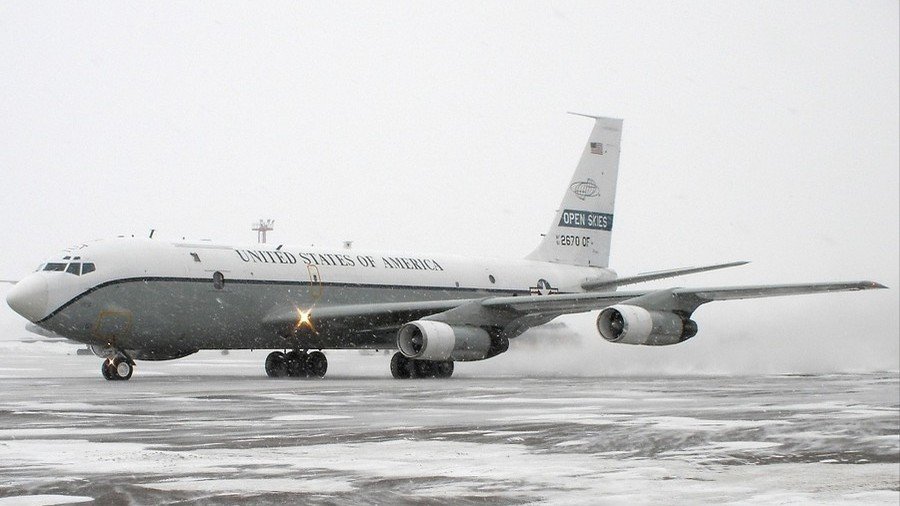 Moscow is set to cancel several agreements with Washington under the Open Skies Treaty, in response to the US creating obstacles for Russian observation activities, the Foreign Ministry said.
Russia will cancel overnight stops at three airfields for US observation planes, as well as scrap a number of bilateral agreements that were made to facilitate observation flights, Foreign Ministry spokeswoman Maria Zakharova said Thursday. The measures will take effect on January 1.
"Following the general political course to further worsen the relationship with Russia, Washington has entirely groundlessly accused Russia of violating the Open Skies Treaty and undertaken unilateral steps to create maximum obstacles for Russian Open Skies missions conducted over US territory," Zakharova said.
Moscow was forced to take the steps in response to US actions hampering observation activities, Zakharova stressed. The spokeswoman signaled that the restrictions were reversible, if the US backtracks on its policies.
"We urge our American colleagues to stop and seek a depoliticized, mutually beneficial solution to the issues of the treaty," she said.
The Open Skies treaty, designed to lower suspicions and build mutual trust, was proposed during the Cold War era, and eventually signed in the early 1990s by over 20 countries. The treaty entered force in 2002, allowing the parties to conduct observation flights to monitor each other's military activities.
The agreement has held for a decade, but increased tensions between the US and Russia have placed strain on it. In 2014, the US House Intelligence Committee accused Russia of introducing new observation planes, which "support digital photograph equipment, sideways-looking synthetic aperture radar, and infrared equipment" and allegedly did not fit within the agreement's limitations. The legislators urged then-President Barack Obama to forbid Moscow to use such planes for Open Skies flights. In turn, Russia in April 2014 cancelled a US monitoring flight, saying that Washington had twice missed the schedule for it.
READ MORE: Moscow calls on Washington to reconsider curb on Russian observation flights over US
The ongoing row over the agreement has been prompted by the Russian decision to limit the range of observation flights over the tiny exclave of Kaliningrad to 500 km. Moscow stated that such a range was more than enough to cover the entire Kaliningrad region, while the longer ones only disrupted civilian traffic and hampered the operations of the international airport.
The US accused Moscow of violating the treaty and mulled introducing restrictions for Russian observation flights. The planned limitations were reported by the Wall Street Journal back in September, but there has been no official announcement yet. The expected US measures reportedly include limitations on Russian monitoring flights over Alaska and Hawaii, as well as some other options. In response to the report, Moscow has threatened to bring the American flights to strict compliance with the treaty, as well as cancelling extra agreements such as the one on airfield stopovers.
You can share this story on social media: