Russia to 'limit' access to airfields for US observation planes after Alaska & Hawaii restrictions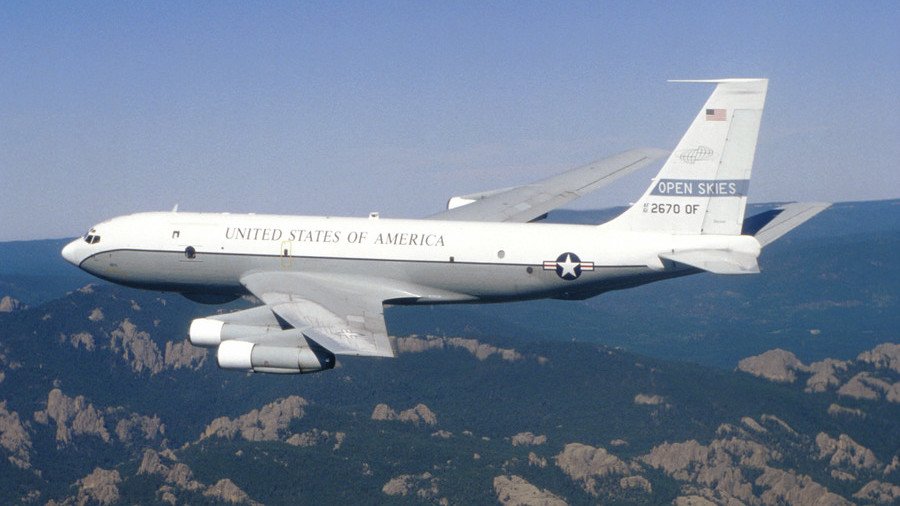 Russia will respond to the expected US measures limiting Russian flights over the US under the Open Skies treaty, the Foreign Ministry has confirmed. Moscow will reportedly limit access to airfields for US military airplanes.
The tit-for-tat measures were confirmed to RIA Novosti by the North America Department's Director of the Russian Foreign Ministry, Georgy Borisenko. The new measures are expected to come in response to the possible US restriction of Russian observation flights over Alaska and Hawaii.
The new Russian measures, which will take effect starting January 1, include bringing the number of airfields, opened for the US observation planes, strictly in accordance with the Open Skies treaty, a diplomatic source told the outlet on Wednesday.
"It is a matter of bringing the list of airfields in line with the treaty. Such a step is a tit-for-tat response to the US's announced measures against Russia, which are also planned to be introduced in January," the source said. According to the agreement, Russia opens four airfields, namely in Kubinka, Ulan-Ude, Vorkuta and Magadan, for the monitoring planes from other signatories.
The Open Skies multinational treaty was conceived in the Cold War era and signed in the early 1990s. It allows member states to conduct observation flights over each other's territory to monitor military activity. The goal of the agreement, which entered into force in 2002, is to build mutual trust and remove unnecessary suspicions.
American plans to limit Russian observation flights over Alaska and Hawaii were reported by the Wall Street Journal in September. While the decision was expected to arrive shortly, there has been no official announcement yet.
The US cited Moscow's decision to limit the range of observation flights to 500 km over the small Russian exclave of Kaliningrad. Excessive observation activities only hampered operations of the international airport and civilian airplanes, Moscow argued, stating that the 500 km limit was more than enough to observe the whole exclave.
READ MORE: Moscow calls on Washington to reconsider curb on Russian observation flights over US
Some of the Open Skies treaty member states crossed the Kaliningrad region "back and forth and created complications for the use of the region's limited airspace and the operations of the international airport," Russian Foreign Ministry spokeswoman Maria Zakharova said in September.
"Confrontation is never our choice. That's why we offer our American partners not to crumble into another abyss of measures and countermeasures, but stop before the steps they've announced have come into force," Zakharova warned.
You can share this story on social media: