Alleged St. Petersburg terrorist attacker caught on CCTV (VIDEO)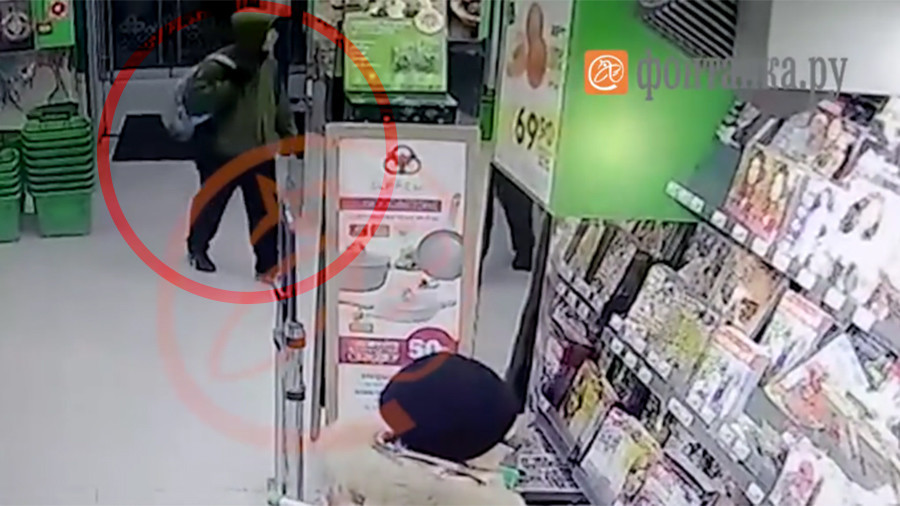 A CCTV camera has captured a suspect in the investigation into Wednesday's blast in Russia's St. Petersburg. The incident left 13 people injured and was called a terrorist attack by the Russian leader.
The video purportedly shows a man carrying a rucksack entering the store which was later rocked by an explosion, according to Russian online newspaper Fontanka. In the footage published on Thursday, the man is seen leaving his rucksack in a storage locker at 6:16pm local time (3:16 GMT), just half an hour before the explosion tore through the busy supermarket. The suspect's face is not clearly seen in the footage and his head is covered by a hood. Less than 30 seconds later he left the shop carrying nothing on his back.
The alleged attacker reportedly arrived by shuttle bus. Fontanka reports that he pretended to look at wares for around half a minute before leaving the place without his belongings. However, the video does not show him wandering about the shop. After the man went out, he reportedly blended in with the crowd.
"My mother was standing at the cash desk, she was the first in line. When she was paying for the purchases, the blast went off," Maksim Dorofeyev told RT's Ruptly agency at a St. Petersburg hospital. Dorofeyev added that initially he had not known what was going on, and only recalled seeing pieces of ceiling on his shoulders.
"I started to look for my mom, and saw her standing by the storage locker. Her coat was on fire," the man said, adding that they were among the last to leave the scene, as "everyone who could move had run away."
Maksim's mother, Alla Dorofeyeva, is now also in hospital with head and leg injuries. She told Ruptly that she had only seen pieces of ceiling falling down in almost complete darkness.
"I lost my eyesight for a while, it all went black. I couldn't understand where I was, and then I saw my son. I couldn't hear either, but I read his lips. He was screaming, 'Let's get away from here, now!'
"That's how it happens – you go to a local store to get some bread, and might never come back," the woman added, saying she was still in shock.
A total of thirteen people were injured in Wednesday's explosion, with eight still remaining in hospital. The blast, equivalent to 200 grams of TNT, was caused by a homemade explosive device filled with lethal fragments. Russian President Vladimir Putin called the incident a terrorist attack and ordered law enforcement to "kill the assailants" if they offer resistance. The police are investigating the attack and so far have not revealed any further details.