'4th floor is nothing, try jumping off the roof!' Russian snow divers make use of winter weather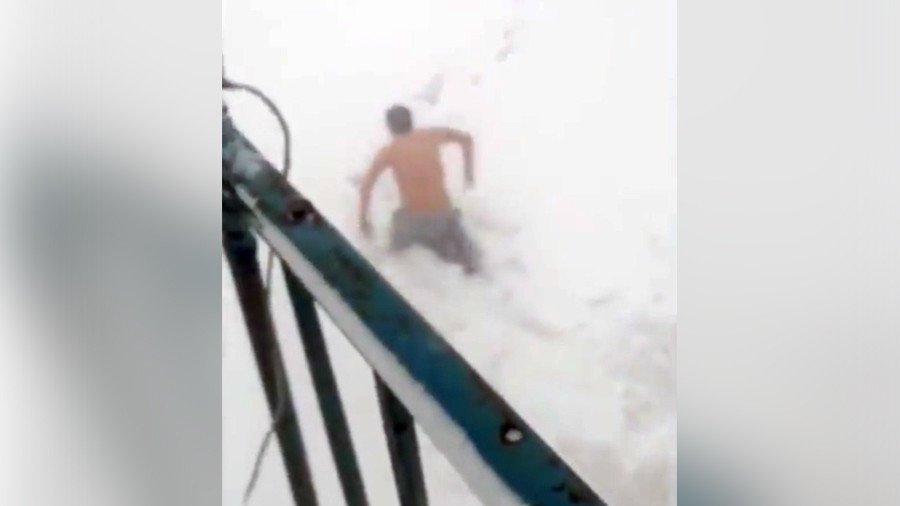 Russians on the Far East island of Sakhalin are indulging in the country's most accessible extreme winter sport – leaping straight out of the window into the snow.
"The fourth floor is nothing, try jumping off the roof," says the voice filming from the safety of the ground as youths jump out feet-first from the top floor of an abandoned building, before landing in head-height snow piles, apparently unscathed.
The town of Uglegorsk, population 10,000, where the footage was filmed was submerged in several feet of snow, following a storm earlier in the week that damaged the roofs of several buildings, and caused widespread electricity outages, which nonetheless did not stop the divers from posting their feats on social media.
In another video posted from the nearby town of Shakhtyorsk, also on the west coast of the island, which lies north of Japan, the two men jump only from two floors up, but compensate by wearing only their underwear for no discernable reason.
"Welcome to the broadcast, television viewers," says the self-appointed host in the second video. "These f***ing crazy Russians are going to jump into the snowstorm."
The two young men proceed to do as promised, yelping in pain as the cold snow burns their skin.
While for the vast majority of the island's residents snowstorms are a regular feature for almost half the year, and an inconvenience, there have also been dangerous incidents.
On Tuesday, Sakhalin media reported that a pensioner was blown from the balcony of her fourth-floor apartment after going out for a cigarette. Luckily, the 70-year-old's fall was cushioned by the snow, and after an ambulance failed to make its way to the victim, she was delivered to a local hospital in the front loader of a snowplow.
You can share this story on social media: