90 firefighters tackle Melbourne blaze as residents evacuated (PHOTOS, VIDEOS)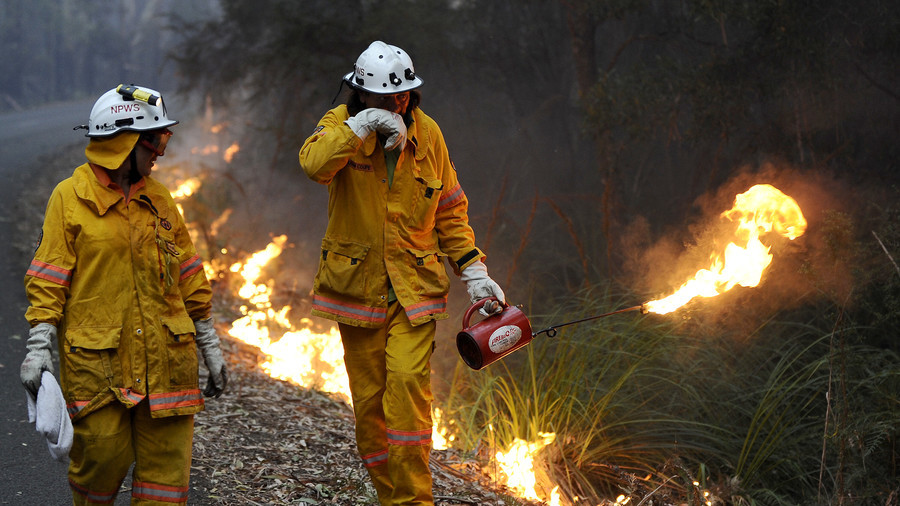 The Melbourne suburb of Cheltenham was evacuated after a fire quickly spread towards houses and a primary school on Wednesday. Australian firefighters said the blaze could have had "devastating consequences" for the community
The fire broke out in a nature reserve in south-east Melbourne before spreading towards the Cheltenham Golf Club and local houses at about 2pm local time, ABC reports.
"The fire took hold extremely quickly," Assistant Chief Fire Officer Brendan Angwin said at a press conference. "Warm weather, strong northerly winds, all the right conditions for a fire to burn, especially in the fauna reserve, where it was natural bush, [and] tea tree. It got hold extremely quickly."
About 90 firefighters and four helicopters arrived at the scene to fight the fire. Police cordoned off the area and "approximately 40 houses have been evacuated," Victoria Police Inspector Bruce Kitchen told reporters.
"It burned up to the back of the school," Angwin said. "It burned some fences at the rear of Glebe [Avenue], but firefighters, with the support of helicopters, have done an extremely good job to check this fire."
The fire, which also burned some of the grasslands inside a cemetery, has since been brought under control. Evacuated residents were told to stay away until they have been given the all clear. "Our concern is in this weather, being out in the sun, we need to give them protection," Kitchen said
People who stayed in their homes were told to remain in place and take precautions to protect themselves from the smoke.
The cause of the fire is not yet known. "An investigation will take place once the fire has been extinguished," Angwin said.
"This fire was extremely fast-moving and was headed straight towards homes and the local school," the Age reports Melbourne Fire Brigade acting Chief Officer David Bruce as saying. "If it wasn't for the quick response and aggressive firefighting of MFB and CFA crews, the fire could have had devastating consequences for the local community."