Thousands evacuated as Bali volcano spews ominous smoke 3,000 meters high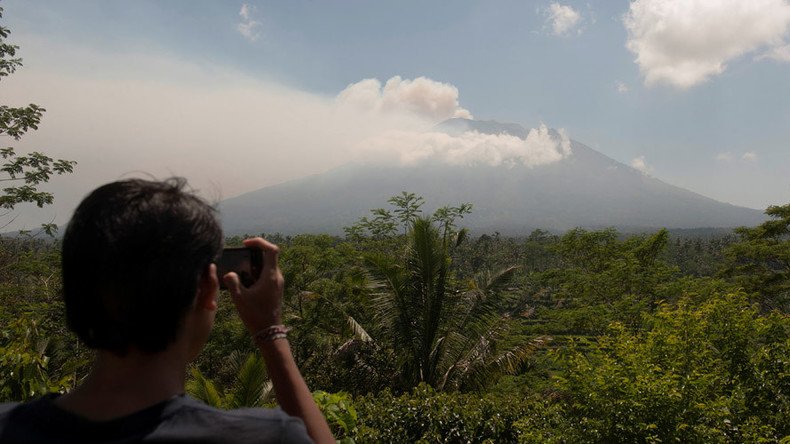 Thousands of residents and tourists have been evacuated on the Island of Bali, Indonesia, after a major spike in seismic activity following a 5.7 magnitude earthquake. A total of 400 tremors were recorded in the area following the quake.
The undersea earthquake struck 125km (77 miles) northeast of Surabaya on Thursday, followed by at least 400 tremors.
Around 6,000 people have so far been evacuated from the periphery of Mount Agung, the active volcano on Bali, but the number is expected to rise. The alert status for the island is currently at Level Three, one below the highest risk of an eruption.
"Volcanic activity remains high and there are indications of magma rising to the surface and causing tremors," said Sutopo Purwo Nugroho of the National Disaster Management Agency, as cited by Reuters.
"There should be zero public activity within the specified radius in case there is an eruption," Nugroho added.
Bali's international airport in Denpasar remains open and tourist activities elsewhere on the island have carried on as normal. However, Australia's consumer watchdog has issued a warning to holidaymakers on the islands about the potential for flight delays and cancelations.
White smoke is rising 3,000 meters (9,840ft) in the air from the crater and this could cause air travel disruptions if it continues.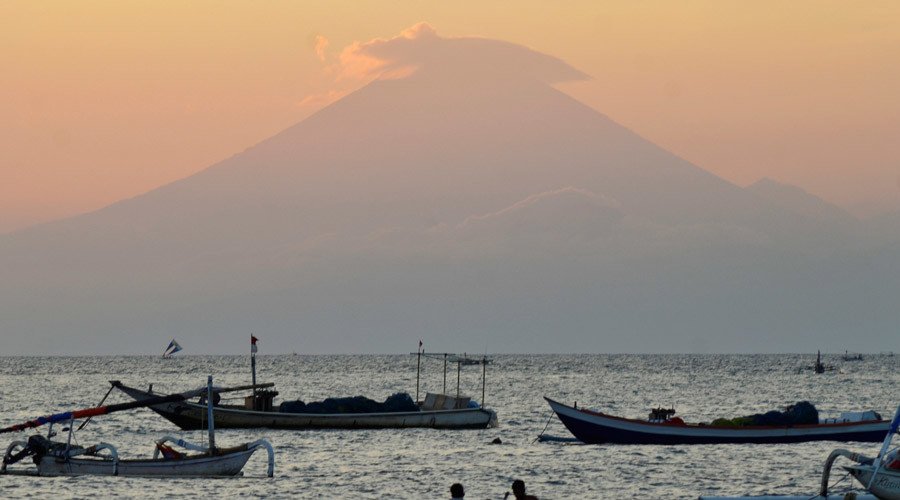 Indonesia is located in the so-called 'Pacific Ring of Fire,' the meeting place of several tectonic plates which leads to roughly 90 percent of the world's seismic activity. Indonesia itself has nearly 130 active volcanoes.
An eruption at Mount Agung in 1963 killed 1,100 people, so authorities are not taking any chances.
Indonesia's National Disaster Mitigation Agency has set up a cordon of between six and 7.5km around the volcano and evacuated nearby towns and villages.
It is the second time the seismic alert level in Indonesia has been elevated in less than a week following a major increase in seismic activity since August.
READ MORE: Bali tourists fed poisoned dog meat regularly new investigation reveals
You can share this story on social media: