Little Santas flock onto Aleppo streets at Christmas, 1 year after liberation (PHOTOS)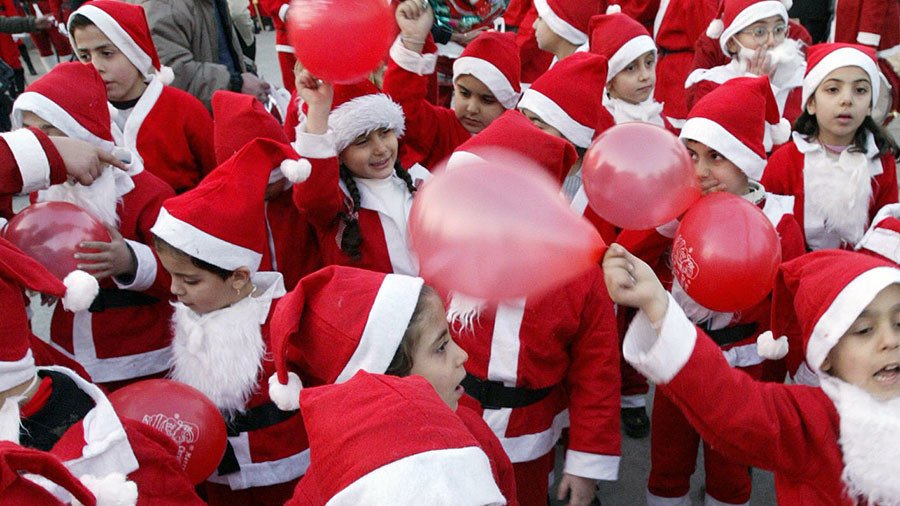 Dozens of children dressed in red-and-white Santa Claus costumes danced around a fir tree as Christians in Syria's Aleppo celebrated Christmas, a scene unimaginable a year ago under Islamist occupation.
Two-thirds of Aleppo's Christian population of 150,000 had to flee during the war, but this year's Christmas celebrations were still grand. The city was illuminated and Christmas trees erected in squares.
People visited churches, some of which miraculously remained in the city despite being used as targets by Jabhat al-Nusra and Islamic State (IS, formerly ISIS/ISIL) terrorist groups. There was laughter and music in the streets as Aleppo citizens congratulated each other on the birth of Christ.
The pictures of joyful kids in red-and-white costumes and Santa hats dancing in Aleppo have been reposted by many on social media. Similar photos were also taken in the town of Mahardah in northern Syria, which has a predominantly Christian population.
The citizens of Aleppo took to the streets despite the city being shelled by terrorists on Thursday, when it marked a year since liberation. According to the SANA news agency, there were six casualties in the attack, including two girls of six and 13 years, who died.
READ MORE: No sign of recovery for devastated Mosul after 5 months of freedom (PHOTOS, VIDEO)
The jihadist and militant groups were kicked out of Aleppo in December 2016 as a result of a large-scale offensive by the Syrian Army and pro-government forces, backed by Russian airstrikes. Previously, the city was split between warring parties as the western part was controlled by the authorities and the eastern part occupied by the opposition, with a strong presence of Jabhat al-Nusra. The militants frequently shelled western Aleppo and prevented the population from fleeing the area under their control with threats, sniper fire and executions.
You can share this story on social media: