Thrill-seeking Siberian couple smashes into ice after rope jump goes terribly wrong (SHOCKING VIDEO)
Published time: 25 Dec, 2017 20:23
Edited time: 26 Dec, 2017 05:14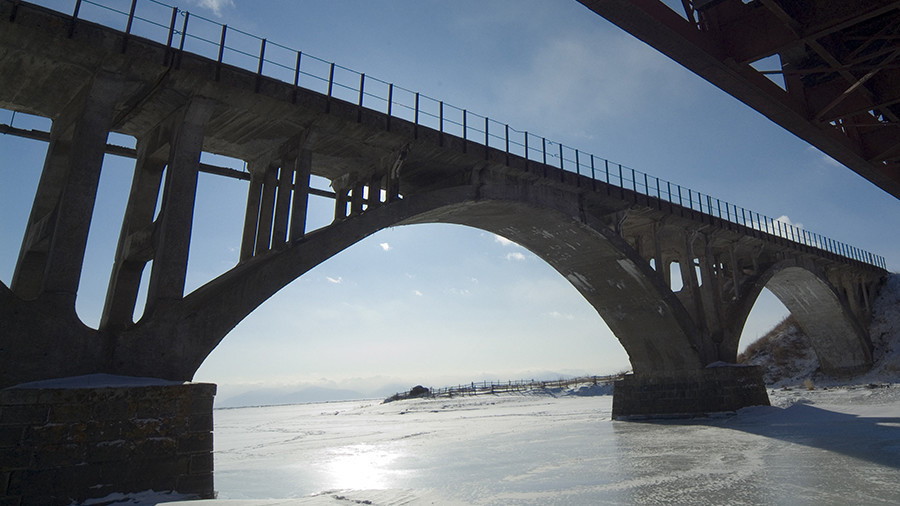 A young couple in Russia's Tomsk Region has been hospitalized in critical condition after crashing onto a frozen river during a botched suspension rope jump. The stunt organizers apparently miscalculated the length of the cord.
The incident occurred on the bridge over Tom River near the town of Seversk Sunday, the local branch of Russia's Investigative Committee said. A young man and his girlfriend were enjoying a paired rope jump, but the cord turned out to be too long and the couple smashed into the ice at high speed.
The injured pair were rushed to intensive care, with medics describing their condition as "critical, but stable," TV2 reported. On their Russian social media network VK page, operators of the jump rope said the height of the bridge was equivalent to a seven-story building and advertised the stunt for "romantics" and couples in love.
Video of the ill-fated jump was uploaded online, revealing the organizers' shock as they realized what was happening. One of the instructors is heard telling his colleague in the footage: "I'm going to send you right after them now… I've asked you if the rope is adjusted or not. What have you done?"
READ MORE: Chinese rooftop climbing star dies in 62-storey death plunge
A criminal case has been launched against the operators over "providing services that don't meet the safety requirements," the Committee said. The company in question has staged rope jumps in the Tomsk Region since 2014, providing services to over 5,000 people, according to its VK page. The stunt, which landed the young couple in hospital, cost 250 rubles (around $4).