Seconds from disaster: Crewman scrambles to escape out-of-control rescue helicopter (VIDEO, PHOTO)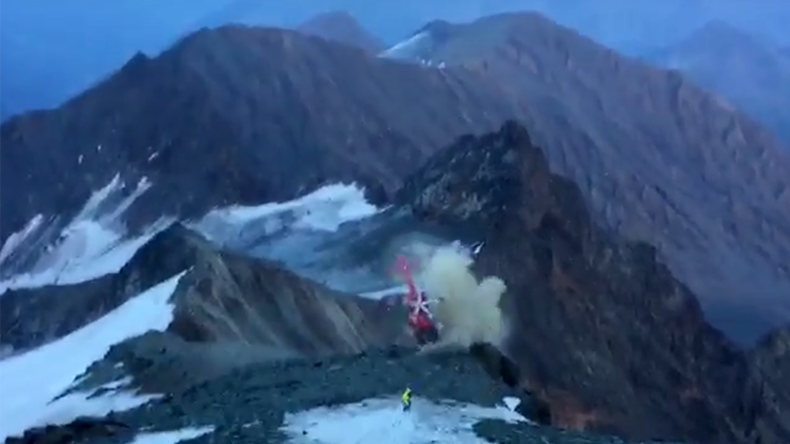 A helicopter rescue high in the Austrian Alps went badly wrong after the pilot lost control of the aircraft just meters from the ground, almost striking his colleague with the rotor blades in the chaos.
Shortly after 8pm local time Tuesday, the three-man helicopter crew responded to an emergency at 3,400 meters (11,100ft) after reports of a climber suffering a heart attack.
"The crew was just about to start when the helicopter was caught by the windstorm," said the rescue team, as cited by Krone.
"The starting phase is always tricky, it came at the worst moment," said Heli-Tirol owner Roy Knaus.
As the footage shows, the helicopter began spinning wildly, almost killing the rescuer who moments before had helped the stricken climber on board the aircraft. When the dust settled, the helicopter came to rest just a few meters from the precipice of a steep rock wall.
"We just avoided catastrophe. Fortunately, no one was badly injured. That's the most important thing," Knaus said, as cited by Tiroler Tageszeitung.
"The wind has probably played a role. It may also have been the additional crew member on board. That would have an effect on the weight distribution."
Knaus added that air accident investigators had concluded their initial inquiry into the incident.
The patient was flown to a nearby hospital in Lienz by a second crew, while the first responders had to take a cable car back down the mountain, reports Krone. The crew suffered only minor injuries.
The wreckage was picked up Thursday afternoon by a heavy-load helicopter and will be transported to Vienna via truck for further investigation on Friday. Heli-Tirol does not believe a technical fault was to blame.
READ MORE: Alone in the woods: 14yo survives 6 days in Siberian taiga
"Constant wind helps in flight, but sudden wind blows, mainly in the mountains, are difficult to estimate. This is why the C11 is emptied to the extreme in high alpine operations in order to have more power," Michael Umschaden, pilot and head of the ÖAMTC rescue helicopter in Klagenfurt, told Kaernten Orf.
In mountainous conditions and at higher altitudes, the air is far thinner, which limits the power output of rescue helicopters, making operations all the more difficult.