'You made it up': Watch Lavrov grill Bojo over baseless Russian interference claims (VIDEO)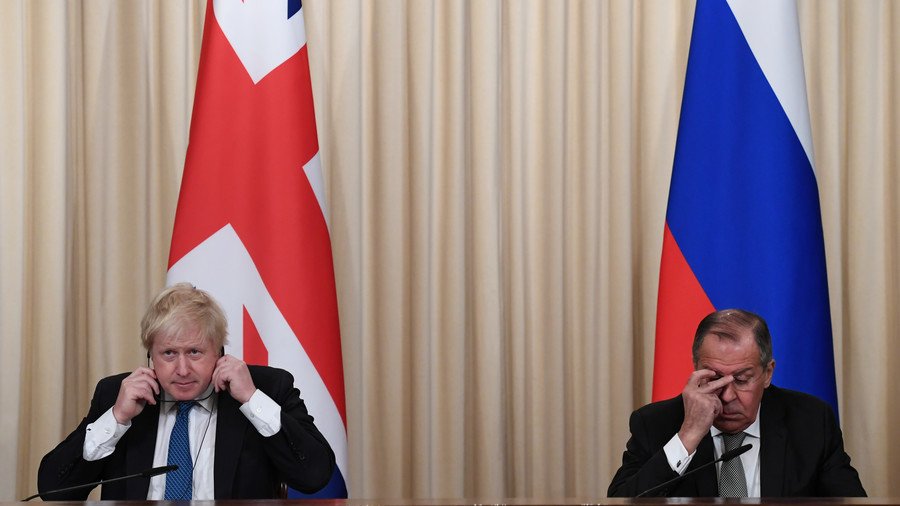 Sergey Lavrov was seen smiling and chuckling as Boris Johnson implied on Friday that Russia had attempted, unsuccessfully, to meddle in UK politics. The British FM had previous said there was no evidence of Russian interference.
During a joint press conference with the British foreign secretary in Moscow, Russian Foreign Minister Lavrov pointed out that Johnson had previously confirmed that there was no evidence that Moscow had interfered in any way in the Brexit referendum.
"Not successfully. Not successfully, I think is the word," Johnson interjected. Lavrov shot back, "You see? [Johnson's] afraid that if he doesn't contradict me, that when he gets back to the UK, his reputation is going to be ruined in the media."
READ MORE: Johnson: No evidence of successful Russian interference in UK affairs, hope we can move on
Johnson turned the tables, however, responding that it was he who was worried about Lavrov's reputation, urging Russia's foreign minister to "recognize that Russian attempts to interfere in our elections or referendums - or whatever they may have been - have not been successful."
Chuckling, Lavrov observed that indeed, "the absence of action can never result in anything – I agree with you." The Russian diplomat then had a request of his own. "I would still like to at least get some facts supporting our unsuccessful meddling. Without facts, it's very hard to have a serious discussion. I think you've just made all of this up. Unfortunately, you are a sort of hostage to this subject. It's very hard to get down from the fence you've climbed."
But Johnson stood his ground, saying that he hoped the UK and Russia could "move on from this and any such efforts [at interference] should be abandoned because what the people of the world want to see is free, fair democratic elections without outside interference."
In November, Johnson said that he "hadn't seen a sausage" of evidence showing that Russia attempted to interfere in British politics.
You can share this story on social media: