'Degree of safety in numbers: US is in complete isolation over Jerusalem'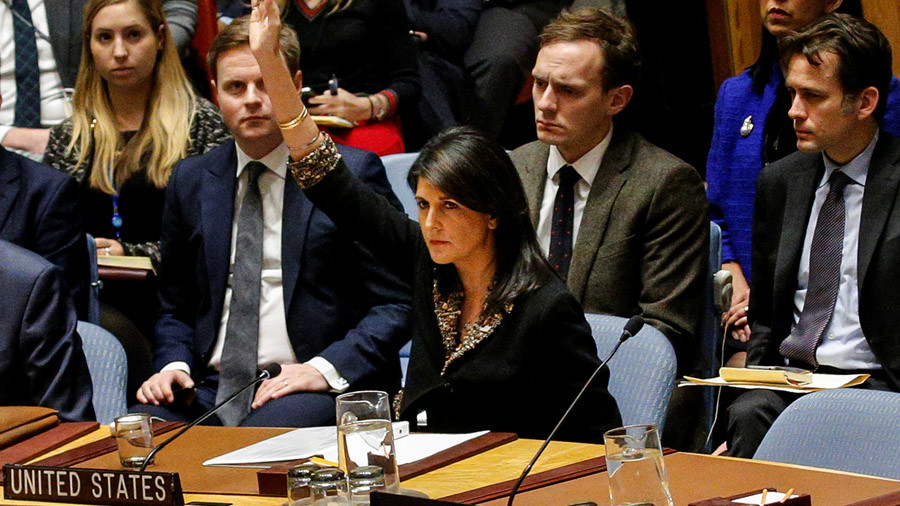 UN members should not be unduly intimidated by what the US says and its "bullying" tactics over the vote on a Jerusalem resolution, says former UN Director of Communications Edward Mortimer.
The UN General Assembly gathers today to vote on a draft resolution rejecting Washington's recognition of Jerusalem as Israel's capital.
US ambassador to the UN Nikki Haley has warned the American president will have his eyes on anyone who votes against the US position, while President Trump has threatened to cut funding to any countries who won't support America's Jerusalem position.
RT asked a former Director of Communications for the United Nations Secretary-General, Edward Mortimer, what he thinks of such diplomacy.
"It is a slightly familiar pattern. I remember that in 1990 when the resolution authorizing member-states to use all necessary means to reverse the Iraqi invasion of Kuwait was going through the Security Council, Yemen - which was on the Council at the time - voted against. And the US ambassador Thomas Pickering, as he went past the desk of the Yemeni ambassador after the vote, said "That is the most expensive vote that your country will ever cast," Mortimer recalled.
In his opinion, "this idea that the US uses its power and wealth and the dependence of some other countries on its assistance as an argument when trying to get votes at the UN, normally in the Security Council, but in this case obviously also in the General Assembly, this is not something entirely new."
But, he went on to say, what is new is that "the US starts from a situation of complete isolation."
Earlier this week, the UN Security Council voted 14-1 on a resolution calling for the withdrawal of Trump's recognition of Jerusalem as Israel's capital.
"Even countries that are normally very closely allied with the US, such as the UK, spoke very strongly in favor of the resolution," said Mortimer.
He added that most countries in the General Assembly "will feel that there is a degree of safety in numbers and not be unduly intimidated by what Ms. Haley has said. Let's hope so, anyway."
Characterizing the American style of diplomacy as "bullying," he went on to say that "great powers tend to behave like bullies. At least, that is how their remarks very often are received by smaller countries."
Mortimer said that this is a particularly crude example, "as many of Mr. Trump's actions and words are rather crude. But it is a version of the phenomenon which is not in itself unusual in international affairs."
According to Mortimer, "other countries are afraid of the US, probably more than they are of any other power. It is not very surprising that the US is the country best placed to use these "bullying" tactics. But the way they are used is not very subtle, and it may well backfire."
He also said that "the American influence in the world has been declining now for 20 years or so. I think this kind of behavior is likely to accelerate that decline."
You can share this story on social media: