'I will report to Trump who votes against US Jerusalem decision' – Haley in letter to UN members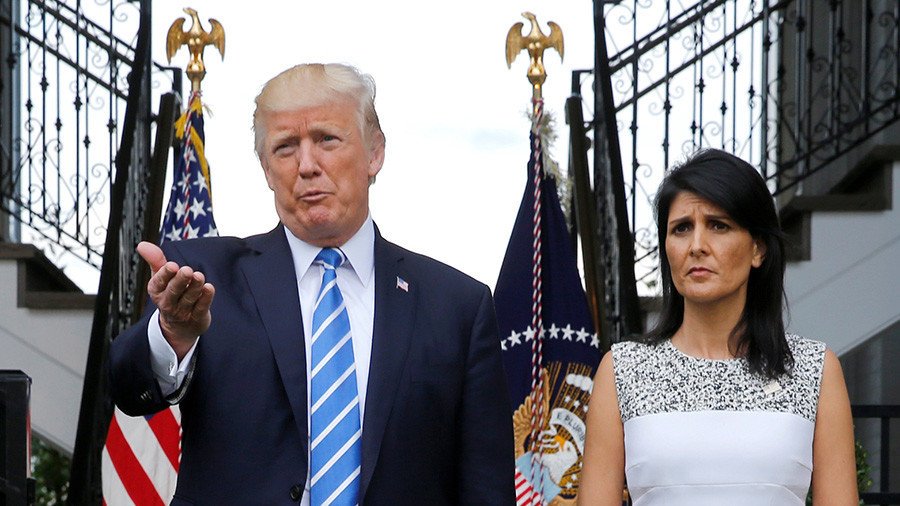 The US ambassador to the UN has warned member states that Donald Trump will take a vote on his recognition of Jerusalem as Israel's capital "personally," and she will report back to him on nay-sayers at the UN General Assembly.
The warning was contained in an apparently threatening letter ahead of the General Assembly's emergency session on the status of Jerusalem, which is scheduled to take place on Thursday.
READ MORE: UN General Assembly to hold rare emergency session after US vetoes Jerusalem resolution
The US continues to defend its decision to recognize Jerusalem as the Israeli capital. The day before the emergency session, US envoy Nikki Haley sent a letter informing other countries' representatives that all those objecting to the US position will be reported to President Donald Trump. Haley said the US leader will be "carefully" following the vote, according to Haaretz newspaper.
"As you consider your vote, I encourage you to know the president and the US take this vote personally," the letter stated, according to the newspaper. "The president will be watching this vote carefully and has requested I report back on those who voted against us," she added.
Earlier, the ambassador said in a tweet that Washington "will be taking names" of those "criticizing our choice" during Thursday's symbolic vote, as resolutions passed by the General Assembly are not legally binding.
At the UN we're always asked to do more & give more. So, when we make a decision, at the will of the American ppl, abt where to locate OUR embassy, we don't expect those we've helped to target us. On Thurs there'll be a vote criticizing our choice. The US will be taking names. pic.twitter.com/ZsusB8Hqt4

— Nikki Haley (@nikkihaley) December 19, 2017
On Monday, the US was the only state out of the 15 members of the United Nations Security Council to use its veto power to block a resolution that called on all states to refrain from establishing diplomatic missions in Jerusalem. The US mission then called the move "an insult," saying that the organization is "doing more harm than good in addressing the Israeli-Palestinian conflict."
You can share this story on social media: