'Mr. Trump, you can't buy Turkey's democratic will' – Erdogan on Jerusalem UN vote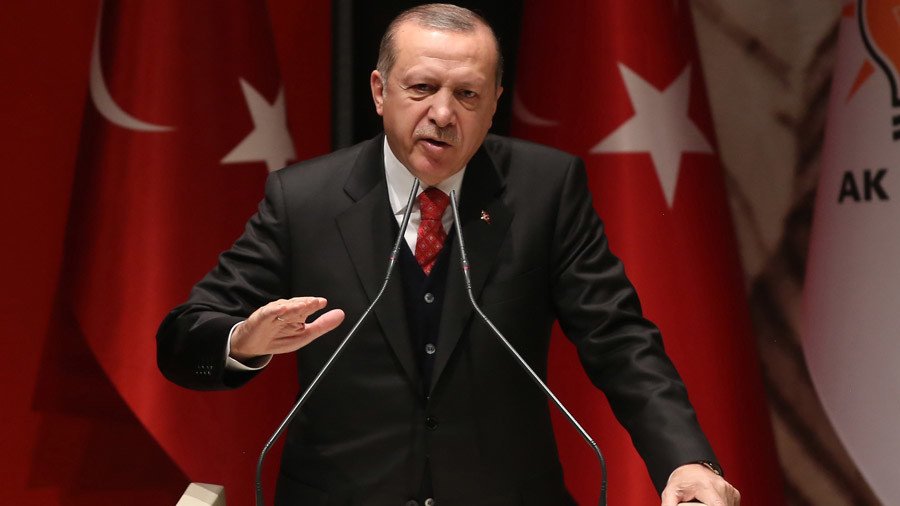 Turkish President Recep Tayyip Erdogan has warned Donald Trump that he "cannot buy Turkey's democratic will," referring to the upcoming UN vote on the US recognition of Jerusalem as Israel's capital.
"I hope and expect the United States won't get the result it expects from there (the UN General Assembly) and the world will give a very good lesson to the United States," Erdogan said during a speech in Ankara, as quoted by Reuters.
Earlier on Thursday, Turkish Foreign Minister Mevlut Cavusoglu said that Washington's decision to recognize Jerusalem as Israel's capital was "wrong and unacceptable." He accused the US of resorting to threats because it is isolated in its stance.
The Turkish president's comments came after the US envoy to the UN, Nikki Haley, said Washington would be "taking names" of countries that back the UN resolution against its Jerusalem decision.
Trump also suggested that countries who vote in favor of the resolution at the UN General Assembly would lose money. "Let them vote against us," he said. "We'll save a lot. We don't care. But this isn't like it used to be where they could vote against you and then you pay them hundreds of millions of dollars...we're not going to be taken advantage of any longer."
Egypt, which drafted the UN Security Council resolution on Jerusalem vetoed by the US on Monday, is seen as being particularly vulnerable, as it received $1.2 billion in American aid last year.
The Security Council vote had demanded that the American decision to recognize Jerusalem as the Israeli capital be withdrawn. All other UNSC members voted in favor of the document.
The Thursday General Assembly meeting was triggered by a request from Arab and Muslim states, following the Monday veto by the US. They are seeking to invoke UN Resolution 377, known as the "Uniting for Peace" resolution, which is the only way to circumvent a Security Council veto.
The resolution states that the assembly can call an emergency special session to consider a matter "with a view to making appropriate recommendations to members for collective measures," if the Security Council fails to act. Only 10 such sessions have ever been convened, the most recent taking place in 2009, when the assembly called a meeting on East Jerusalem and the Palestinian territories. The Thursday meeting will be a continuation of that session.
You can share this story on social media: