Erdogan slams Israel as 'terrorist state' that 'kills children'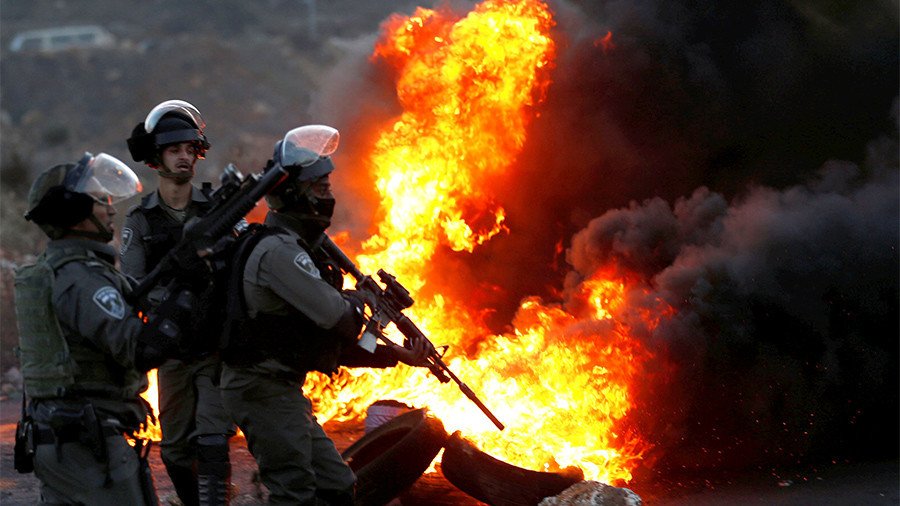 Turkish President Recep Tayyip Erdogan lashed out against Israel Sunday, calling it a 'terrorist state' that 'kills children.' Erdogan promised to fight to the bitter end against Donald Trump's recognition of Jerusalem as the capital of the Jewish state.
"Palestine is an innocent victim… as for Israel, it is a terrorist state, yes, terrorist!" Erdogan said at a congress of his ruling Justice and Development Party's (AKP) in the Turkish city of Sivas on Sunday. "We will not abandon Jerusalem to the mercy of a state that kills children," he added.
As for the US decision to recognize Jerusalem as the Israeli capital, despite the Palestinians viewing the eastern part of the city as the capital of its future sovereign state, Erdogan promised to use "all means to fight" it, according to AFP.
Violent clashes have continued in East Jerusalem, the West Bank and Gaza for several days after Trump's announcement on Wednesday. Two Palestinians were killed and over 1,000 people injured on Friday, with a further 230 wounded on Saturday, as Israeli security forces fired tear gas, rubber bullets and water cannon at the protesters.
Erdogan blasted Israel as an "oppressive, occupation state," calling the response of the police and military to the protests "disproportionate," Hurriyet reported.
"The US ignored a 1980 UN Security Council ruling regarding Jerusalem which the US itself signed at that time," Erdogan said as cited by the Daily Sabah. "A system in which the stronger one is regarded as being right can't constitute justice, peace and stability," he said, adding that the American approach could lead to more tragedies.
In response to Erdogan's remarks, Israeli Prime Minister Benjamin Netanyahu retorted that that his Turkish counterpart was hardly one to talk.
"I'm not used to receiving lectures about morality from a leader who bombs Kurdish villages in his native Turkey, who jails journalists" said Netanyahu, adding that Erdogan "helps terrorists, including in Gaza, kill innocent people."
"That is not the man who will lecture us."
Trump's announcement faced widespread international condemnation and was backed only by Israel, which has been pushing for Jerusalem to be recognized as its capital for decades. The leaders of France, Germany and other European nations have all agreed that the US move is dangerous and harmful to the Israeli-Palestinian peace process, urging the US to abide by international agreements. The Arab League also rejected the American decision, saying on Saturday that it amounted to recognition of the illegal occupation of East Jerusalem by Israel, and ipso facto had no legal basis.
You can share this story on social media: