'Face facts': Netanyahu lambastes pan-Muslim declaration on East Jerusalem
Published time: 14 Dec, 2017 11:37
Edited time: 2 Mar, 2018 12:58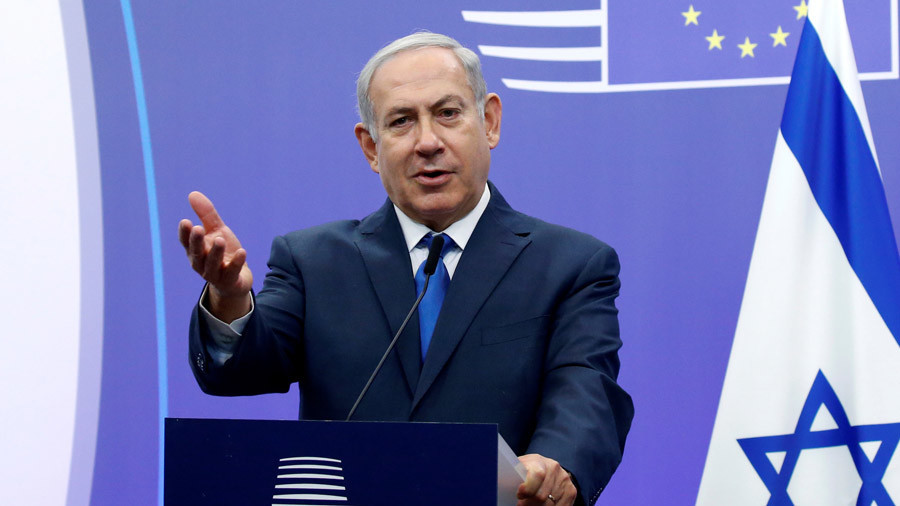 Israel's Prime Minister Benjamin Netanyahu has dismissed a declaration from Muslim leaders calling for East Jerusalem to be recognized as the capital of a Palestinian state, claiming "truth" was on his side.
READ MORE: Turkey reveals plan to open embassy in East Jerusalem
The rebuke comes amid growing violence in the wake of Washington's recognition of Jerusalem as the capital of the Jewish state.
Netanyahu said the resolution from the Organisation of Islamic Cooperation (OIC) "fails to impress us." He added "the truth will win in the end and many countries will certainly recognize Jerusalem as the capital of Israel and also move their embassies."
Not only is it the capital of Israel but in Jerusalem we uphold freedom of worship for all faiths and it is we who are making this promise in the Middle East even though no one else does and despite frequent severe failures in this regard.

— PM of Israel (@IsraeliPM) December 13, 2017
On Wednesday the OIC – which describes itself as "the collective voice of the Muslim world" – held an extraordinary summit in Istanbul at the behest of Turkish President Recep Tayyip Erdogan. The meeting was called in response to President Donald Trump's December 6 decision to recognize Jerusalem as Israel's capital and set in motion plans to move the US embassy there.
The pan-Muslim body declared the US announcement a "dangerous" violation of international law. The emergency summit, which was attended by just over 20 Muslim leaders, warned that Trump's administration would be held responsible for "all the consequences of not retracting from this illegal decision."
The international community criticized Washington's move as damaging and detrimental to solving the decades-old conflict between Israel and the Palestinians. But in response to the OIC's statements, Netanyahu brushed aside international criticisms and suggested the Palestinians "recognize reality" and "work toward peace, not extremism, and acknowledge an additional fact regarding Jerusalem."
However, Palestinian leaders say they will resist the move until Washington's decision to recognize Jerusalem as Israel's capital is "dropped."

"The Hamas movement has called on the Palestinian people to face the Israeli occupation and adopt the blessed intifada option against it and against the American decision on Jerusalem," Hamas spokesman Abdullatif Al Qanoua told RT Wednesday.
Mahmoud Abbas, president of the Palestinian National Authority, insists that Jerusalem remains the "eternal capital of Palestine."
Trump's decision sparked a wave of protests in the region, with tens of thousands of people taking to the streets.
The Israel Defense Forces (IDF) used live ammunition, tear gas and mass arrests to counter demonstrations in the West Bank and East Jerusalem. More than 1,900 people have reportedly been injured in the ongoing protests.
In Gaza, several Israeli air strikes killed four people, and injured at least 25 others.
Daily rocket fire from Gaza since Trump's decision has prompted Israel to close Gaza's border crossings, Reuters reports. Another person died in a "day of rage" last week.