'Human error': Indian driverless metro train plows through depot wall (VIDEO)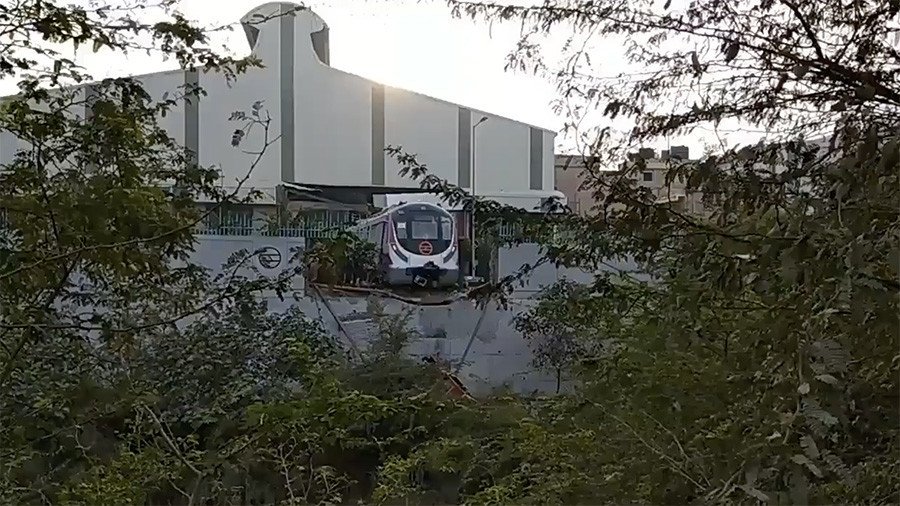 A driverless train on the New Delhi Metro has crashed during test run, with a carriage plowing through a depot wall. An inquiry has been launched, with metro officials citing "human error" as the main cause of the incident.
The new automatically-operated train was being tested on Delhi's Magenta Line on Tuesday. At some point its brakes became disengaged, and the train rolled and crashed into a station wall, local media reports. As a result, it plowed through the wall, "barely missing crashing to the ground," according to NDTV.
There were no people on board, and no one was reported injured in the incident. However, two carriages of the train were badly damaged.
READ MORE: Driverless SUV smashes through shop entrance, knocks down child (VIDEO)
Metro officials have ordered an inquiry into the incident, and blamed it on "human error and negligence." In a statement, they said maintenance staff in charge of the train had failed to test the brake system. "While the train was moving up the ramp for washing, it rolled back and hit the adjacent boundary wall," the Delhi Metro Rail Corporation said.
The part of the line with the new self-driving train is scheduled to launch in less than a week, with Indian Prime Minister Narendra Modi set to open it. Despite the incident, the launch will go ahead as planned, metro officials said.
You can share this story on social media: