Canadian billionaire couple die in suspicious way, bodies found 'hanging side by side next to pool'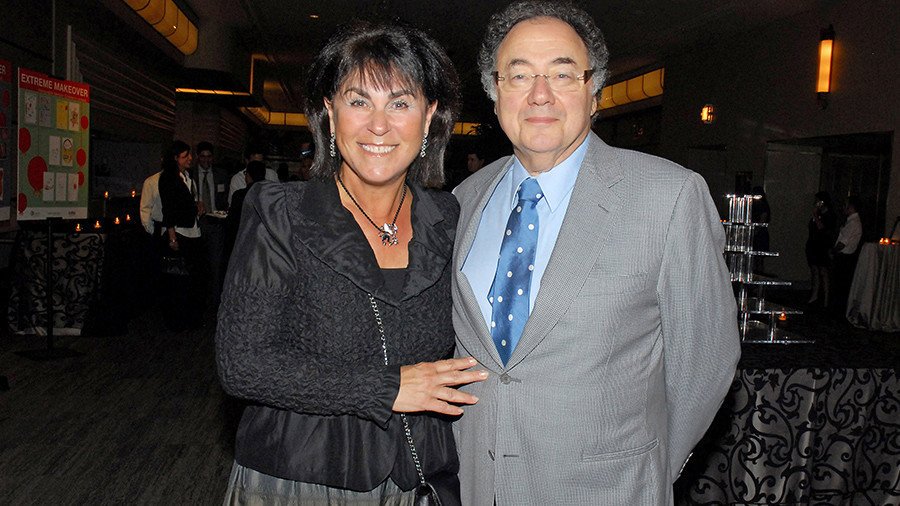 The owner of the Canadian pharmaceutical giant Apotex, Barry Sherman, and his wife were found dead at their home under suspicious circumstances. Reports say their bodies were "hanging side by side" next to their pool.
The bodies of Bernard Sherman, 75, also known as Barry, and his wife, Honey, 70, were found around Friday noon in their mansion in the North York district of Toronto by the police, who arrived in answer to a 911 call.
Police did not say who made the call, while the National Post reported that the bodies were initially discovered by a real estate agent, who came to the couple's luxury mansion, which is currently up for sale.
The paper also said that the bodies were "found hanging side by side next to their indoor pool," something that other Canadian outlets later repeated, citing police sources. Local media also said police were looking into whether it was a murder-suicide.
Meanwhile, none of these facts have been confirmed by police, who have remained tight-lipped about the case. A police detective, Brandon Price, described the deaths only as "suspicious."
However, he also said that the police are not treating the case as homicide. The detective added that the police were still trying to "determine if there is foul play involved or not," as reported by CBC. Later on Friday, police also issued a statement, in which it particularly pointed out that they are not looking for any suspect.
Police also said that there appeared to be no "forced entry" or any intrusion into the couple's house. "Forensics need to be done and post-mortems on the bodies, but at this stage it appears there was no forced entry and no evidence of anybody else in the house," a police source told the National Post.
Sherman was a successful businessman and one of the richest people in Canada. His wealth amounted to about $3 billion, according to Forbes magazine, which lists Sherman as the 12th richest Canadian businessman.
Apotex, which was founded and owned by Sherman, is one of the world's biggest pharmaceutical companies. It sells 260 types of generic drugs in more than 115 countries, while its medicines are used to fill over 89 million prescriptions a year in Canada alone, Forbes reports, adding that the company's revenues account for $ 1.5 billion. It also produces non-prescription drugs, disposable plastics and fine chemicals for medical use.
Sherman had the image of someone with a happy family life. He and his wife recently welcomed a new grandchild, according to the Canadian Globe and Mail. The couple also had four children. The family was also known for its philanthropy.
The Shermans made numerous multimillion-dollar donations to hospitals, schools and charities and had buildings named in their honor. They also had close ties to the Jewish community as they donated roughly $50 million to the United Jewish Appeal - a Jewish philanthropic umbrella organization that later changed its name to the Jewish Federations of North America.
However, Sherman was also involved in several scandals. In October, his company Apotex was hit with a lawsuit filed by 45 US states and the District of Columbia. The states' attorneys accused Apotex, along with 17 other companies and their subsidiaries, of price-fixing.
The states said the companies divided customers for their drugs among themselves, agreeing that each company would have a certain percentage of the market. The companies also agreed on price increases in advance, the states added. The price of such drugs as doxycycline hyclate skyrocketed from $20 to $1,849 in less than in a year in 2014. A total of 15 medicines were listed in the lawsuit.

For years, the family has been plagued by another scandal. In 2007, three of his cousins and the widow of the fourth filed a lawsuit against Sherman arguing that he owed them $1 billion in damages and a 20 percent stake in Apotex. Sherman acquired the company named Empire Laboratories – the predecessor of Apotex – from his uncle after the death of the latter. His uncle's children then claimed that he should have paid them royalties over a 15-year period as well as give them a right to obtain employment through the company and a 5 percent stake in its shares.
The initial cousins' lawsuit was dismissed by a court in 2015. It was, however, reinstated in 2016 but, in September, an Ontario court once again ruled in favor of Sherman and his cousins then appealed the decision.
You can share this story on social media: