Maritime malaise: Over 200 Royal Caribbean passengers struck with stomach virus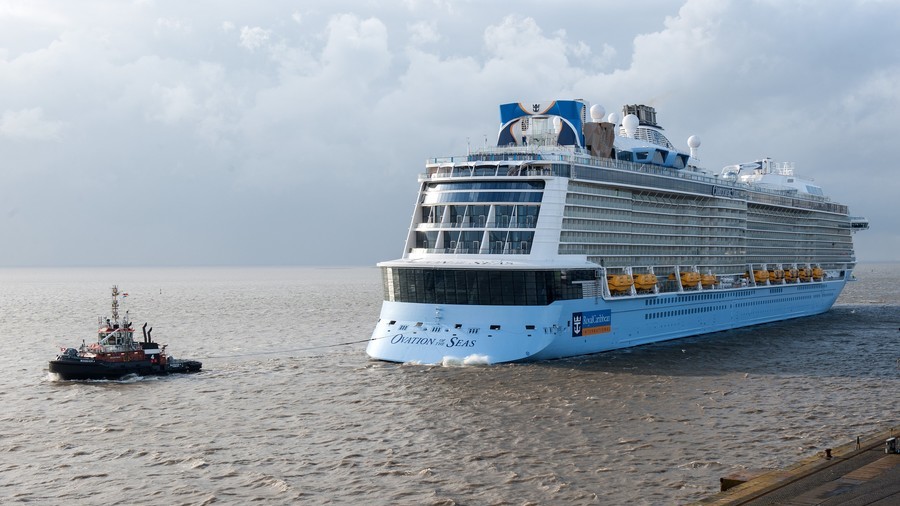 More than 200 Royal Caribbean passengers, on a five-night cruise, have been stricken with a stomach virus. The news comes after hundreds of the company's passengers on another ship also fell ill, earlier this month.
The company confirmed that there had been 220 cases of gastrointestinal illness on board the cruise liner 'Independence of Seas.' The ship is due to return to Fort Lauderdale, Florida, Saturday morning.
"Over the week, 220 cases of gastrointestinal illness were reported— representing 4.86 percent of the 5,547 guests and crew onboard," Royal Caribbean said in a statement Friday to ABC.
Reports on social media claimed the number of virus-stricken people was much higher, but due to long queues to see a doctor many had given up waiting.
A freelance cruise writer on board the ship said on Twitter that several of her family members were sick and waited for hours to see a doctor.
People also reported a strong stench of vomit in several areas of the ship
Alex Brown said on Twitter that he and his wife were confined to their cabin for two days.
The company said that those affected were treated by the ship's doctors with over-the-counter medication. The illness is thought to be Norovirus; symptoms of which include vomiting and diarrhea.
Another passenger posted photos of the boat on social media and claimed it was dirty.
"Meanwhile, we're taking steps like intensive sanitary procedures to minimize the risk of any further issues. The ship will also undergo special additional cleaning procedures before it departs on its next cruise," the statement pledged.
The same vessel is scheduled to embark upon another cruise Saturday afternoon.
The virus outbreak is the second to hit a Royal Carribean cruise ship this month. More than 200 people fell sick on board 'Ovation of the Sea' during a 14-night trip; the ship departed from Singapore on November 23 and arrived in Sydney on December 7.
Royal Caribbean issued a similar statement at the time confirming those who had been taken ill were being treated by onboard doctors and sanitary efforts were being made to minimise further risk.
Norovirus is very contagious and can infect anyone, according to the Centers for Disease Control and Prevention. It can be contracted from an infected person, contaminated food or water, or by touching contaminated surfaces.