Delicate job: Russian Yars ICBM loaded into underground shaft (VIDEO)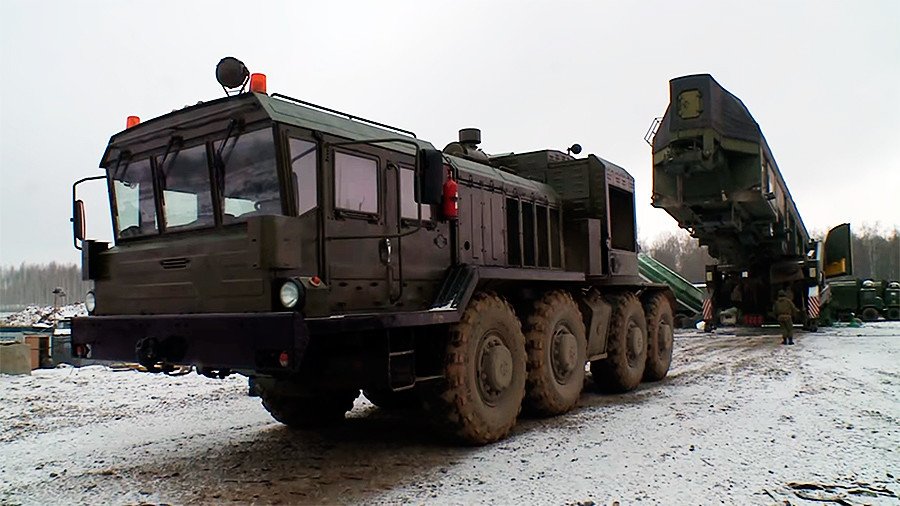 A missile unit in Kozelsk is the first in Russia being armed with stationary Yars intercontinental ballistic missiles, with the Defense Ministry releasing unique footage of a 50-ton ICBM being loaded into the underground shaft.
The video shows the transportation of the giant missile, which is capable of destroying an entire city. The truck carrying the ICBM was accompanied by police, firemen, several APCs and military vehicles.
When handling such firepower, you have to be gentle – and when it's packed into a 50-ton, 23-meter missile, it can take a while. After receiving a blessing from an Orthodox priest, the missile was carefully lowered into a 30-meter shaft with a special loading device, which took several hours. "The loading process is separated into several stages. They are the approach of the loader, the erection of the missile into a vertical position, which is followed by the loading of the unit into the structure No. 1 (the missile shaft)," Major Kirill Golubev, the commander of the Russian Strategic Missile Forces formation in Kozelsk, told Zvezda, Russia's dedicated military TV channel.
READ MORE: Russian nuke launch caught on stunning panoramic video from mere 50m away
The RS-24 Yars thermonuclear-capable ICBM was first tested in Russia in 2007 and went into production three years later. It is capable of hitting targets from a range of 12,000 kilometers to a precision of 150 meters. The missile, which is coated in radio-absorbing camouflage, carries four warheads and the same number of false targets to avoid missile defenses.
READ MORE: Russia launches 4 ballistic missiles amid strategic troops drills (VIDEO)
You can share this story on social media: