Israeli policeman punches woman in face as Jerusalem protests get heated (VIDEO)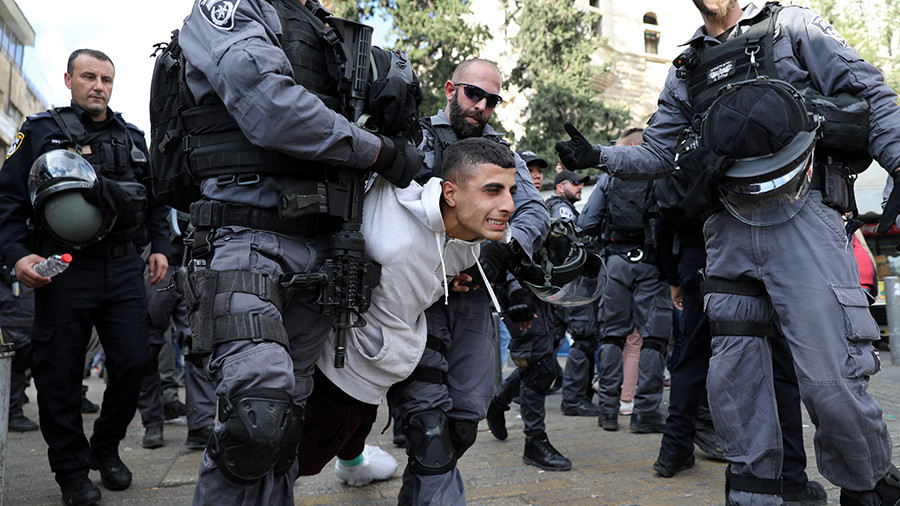 Police and protesters have come to blows near the Damascus Gate in Jerusalem, amid the ongoing turmoil over the decision to move the US embassy to the city which both Israelis and Palestinians consider their rightful capital.
Israeli security officers and a crowd of Arabs confronted each other at the Damascus Gate in the Old City following Friday prayers at the Al-Aqsa mosque, leading to a fracas in which a woman was punched in the face. Two protesters were arrested at the scene, police told the Jerusalem Post. A Red Crescent spokesperson said that two people were injured during the incident.
Palestinians shouted, "With blood and spirit, we will liberate Al-Aqsa," and "Jerusalem is an Arab city." Authorities have heightened security measures and put up metal barriers in the Old City, which includes the Al-Aqsa mosque and the Dome of the Rock – both considered among the holiest sites in Islam.
Elsewhere in Israel, at least four Palestinians were killed and dozens more wounded as Israeli security forces opened fire on demonstrators in the West Bank and along the border with Gaza. The Israeli military said in a statement that Palestinian rioters had hurled stones and firebombs at their soldiers, who were forced to respond, but Gaza Health Ministry spokesman Ashraf al-Kidra said that among the dead was 29-year-old Ibrahim Abu Thraya, a disabled man missing both his legs. Abu Thraya died from a gunshot wound to the head.
READ MORE: Wheelchair-bound man with no legs killed by IDF in Gaza during Jerusalem protest
Second man shot dead in Gaza clashes with Israeli army, according to Palestinian health ministry. He had already lost his legs (allegedly in previous war but unconfirmed). Picture below allegedly shows him pic.twitter.com/7T71glhvXy

— Joe (@joedyke) December 15, 2017
Another Palestinian was a militant shot dead as he stabbed and wounded an officer of the Border Police. Also among the Israeli casualties was a 30-year-old man, slightly injured when Palestinians threw rocks at his car at a town in the West Bank.
The unrest in Israel and the occupied territories has been ongoing since last week, when US President Donald Trump announced he would be recognizing Jerusalem as the official capital of Israel and would be moving the American embassy there. The decision has provoked outrage throughout the Muslim world and all the other members of the UN Security Council, including Russia, have condemned the move for undermining the ongoing peace process.