Buy American, drop Russian freebies: US leans on Kabul over Kalashnikovs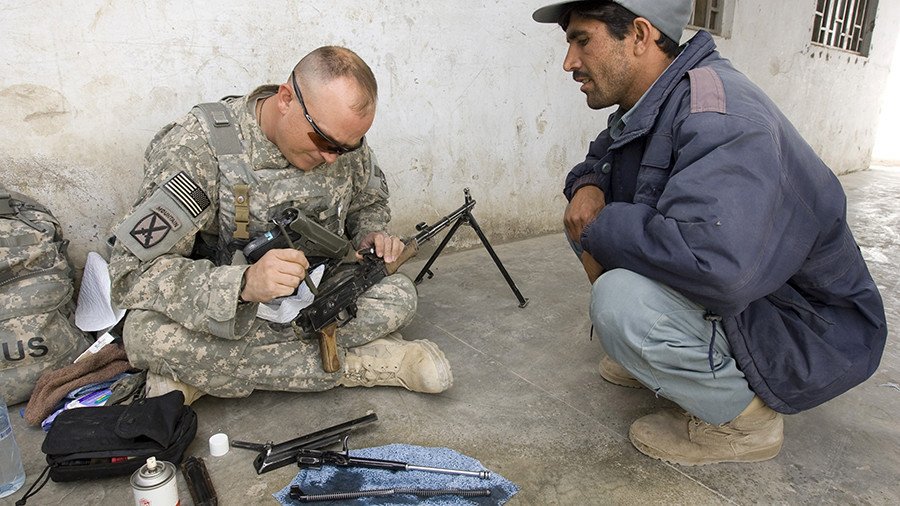 Washington is pressuring the government in Kabul to dispose of Kalashnikov assault rifles, which Moscow had previously gifted to Afghanistan, the Russian foreign minister said. The Afghans are expected to buy American instead.
Speaking to Russian lawmakers on Friday, FM Sergey Lavrov said Russia delivered as many as 50,000 AKs to the Afghan government as aid, but the US is now insisting that Kabul get rid of these rifles, and to replace the Russian-made arms with American ones, he said.
"There is a question of where those 50,000 arms will go now, and we have asked the Afghans this already. But there is another one: why would the US want to undermine the Afghan Army by taking the weapons that they are accustomed to, and forcing them to take those they have to get acquainted with," the minister said.
He added that some in Washington similarly torpedoed the supply of Russian helicopters to Afghanistan, and he suggested that the placement of hurdles in the way of Russian arms is just "for sheer love of the art".
Last year, officials in Afghanistan reported receiving from Russia 10,000 Kalashnikov assault rifles and millions of rounds of ammunition. "This donation represents a deep friendship between two nations," Hanif Atmar, national security adviser in President Ashraf Ghani's government, said at the time. "This important donation is from an important friend of Afghanistan in a crucial time for Afghanistan and the region."
The decision to deliver free AKs to Afghanistan was reported as early as 2015, with the shipment initially scheduled for that same year. It was not immediately clear whether other, undisclosed deliveries of Russian small arms took place or if there was some confusion about how many Kalashnikovs Russia gave to Afghanistan.
READ MORE: Pentagon 'defies Congress to buy Russian helicopters for Afghanistan'
Different models of Kalashnikov rifles, including the older AK-47, have a strong historic foothold in Afghanistan. The US has tried on several occasions to arm Afghan security forces with US-made small arms, but the popularity of the Soviet weapons didn't dwindle. The Kalashnikov design is famous for being extremely reliable and for working even in harshest conditions, compared to American firearms, which require regular professional maintenance.
Acknowledging this reality, the US had to buy AKs (and rounds for them) from former members of the Warsaw Pact, like Romania and Bulgaria, and also from China, to arm their allies in Afghanistan. Last year it was revealed that US-made firearms of a Soviet design may become a preferable option, considering how international purchases may lead to spectacular blunders for America.
You can share this story on social media: