Will robotic blimp give up secrets to Great Pyramid of Giza?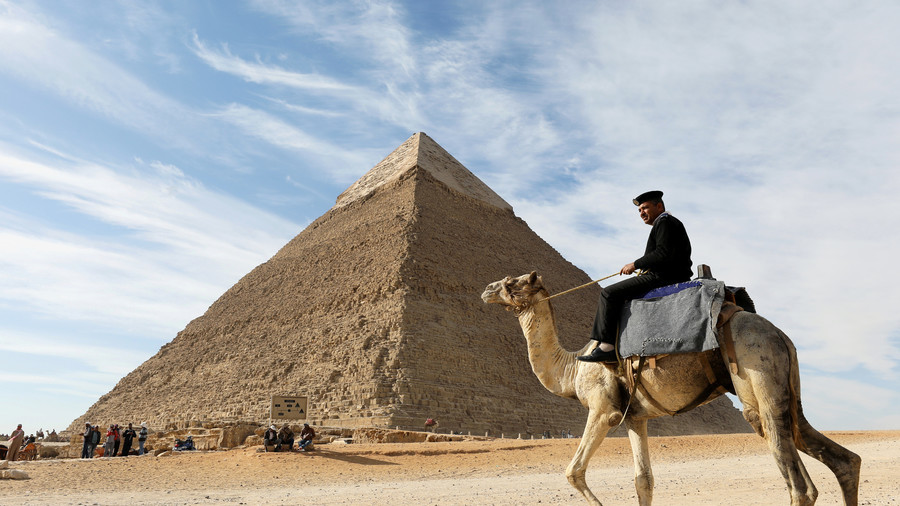 A blimp-like robot could go inside the Great Pyramid of Giza to explore a 30-meter-long hidden chamber discovered by scientists last month. The void was found by the Scan Pyramids project using cosmic-ray imaging.
It marked the first discovery of its kind since the 19th century and the team is now focusing on the next phase of the project – sending a robotic explorer inside, with the intention of finally uncovering how the incredible structure was built.
Research institutions Inria and the French National Center for Scientific Research (CNRS) are currently working with Scan Pyramids to develop a blimp-like exploration robot that can squeeze through a 3.8cm (1.5-inch) hole, before unfolding and inflating itself to examine its surroundings. Once inflated, the blimp will have a diameter of 80cm and a mass of about 60g.
READ MORE: 'Breakthrough' discovery inside Giza Pyramid baffles scientists
"The main challenge is to insert a complete exploration robot in a hole that is as small as possible," Dr. Jean-Baptiste Mouret, a senior researcher at Inria, told Digital Trends.
"It is important to use a hole as small as possible because we want to leave as few traces as we can. This what we call 'minimally invasive robotics.'"
The blimp model was considered a better choice than conventional multi-rotor drones as it is more versatile and offers less risk to the monument.
"Blimps are safer for monuments: they can touch obstacles without crashing and without risking damage to the monument. They are, moreover, intrinsically stable, which is important for taking pictures in low-light conditions, and they are more energy-efficient than multi-rotors," a joint statement from Inria and CNRS said.
The camera-equipped aerial robot will be remote-controlled by radio so that archaeologists will be able to direct it from a distance. However, it will also have the ability to move autonomously if communication is lost.
There is no concrete plan to send the robot on any mission as of yet but, according to Mouret, "it is the right time to imagine, develop and validate the technologies that are needed to explore heritage buildings."
"The challenges raised by the pyramids fertilize science and technology more than ever before. New emerging robotics are at the service of archaeology, " Bertrand Duplat, inventor with the robotic project said.