30 dogs die in hot van, fugitive owner faces 90 yrs in jail (DISTURBING VIDEO)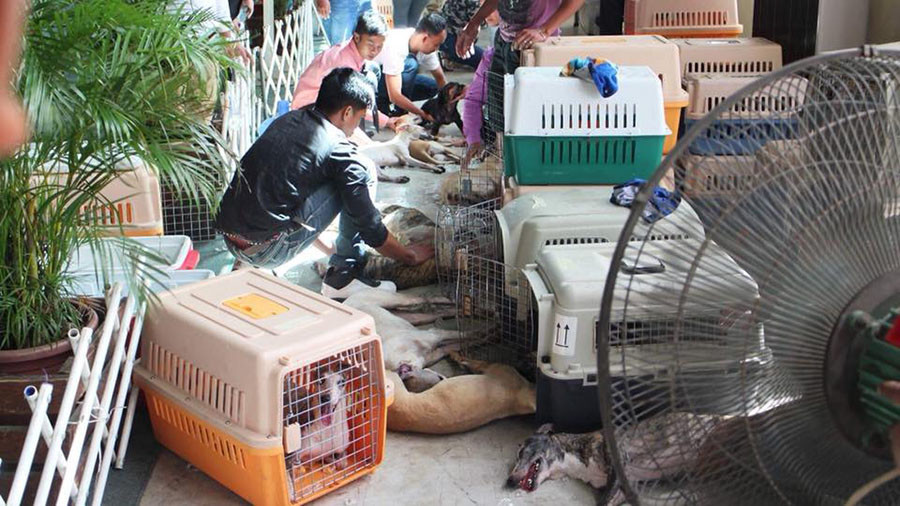 Around 30 dogs died in a heartbreaking incident in the Philippines, succumbing to heat stroke while being transported to a dog show in a closed van. The breeder may face up to 90 years in prison and a $149,000 fine, local authorities say.
A Philippine dog owner loaded some 40 caged canines into a vehicle lacking ventilation to transport them to the Beagle Fanciers Club Dog Show in Marikina City, not far from the Philippine capital Manila, on December 2. As the vehicle arrived at the venue the dogs were found to be unconscious, and despite attempts to save them a total of 30 animals died of heat stroke and suffocation.
People shared a heart-wrenching video and photos showing lifeless dogs lying in cages and on the floor with rescuers trying to revive them. A few of the dogs were lucky enough to survive.
"By posting this video it is my hope that I can prevent another tragedy like this from happening again," Penny Cham, who got the video from "a concerned PCCI [canine club] member," wrote on Facebook.
The canine club issued a statement condemning the incident and suspended the owner on December 6.
On Tuesday, local Senator Francis Pangilinan said the club's measures are "sorely lacking amid the tragic fate suffered by the dogs." Pangilinan said that the owner, who has reportedly since vanished, had violated the Amended Animal Welfare Act and, if found guilty of 30 dogs' deaths, "that would be 30 counts, with maximum penalties of up to 90 years' imprisonment and/or P7.5 million ($149,000) fine."