25% of millennials think human-robot relationships will soon become the norm - study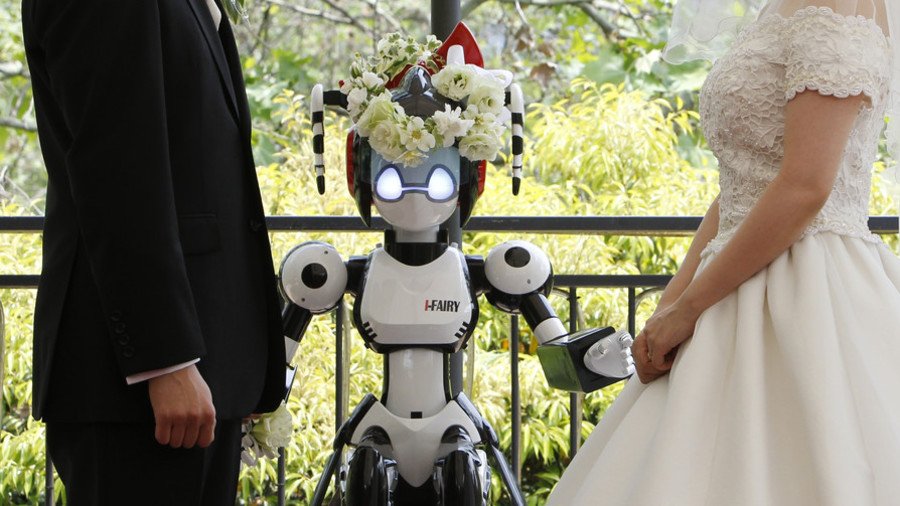 With robots being tipped as a cure for loneliness, new research suggests that some millennials haven't ruled out the possibility of an AI romance in the future.
A study of 12,000 people by French advertising firm Havas has revealed that human-robot relations could become ever more cozy in the years to come, with some 25 percent of people aged between 18-34 believing that it'll be normal for humans and robots to develop deep friendships, or even fall in love.
READ MORE: Sex robots could provide therapy and treat loneliness in care homes
The results were published in Havas's latest Prosumer Report, which explores the impact of emerging technologies on humanity. The questionnaire involved participants from 32 nations, including Russia, the US and Japan – but whether that results in a dystopian world filled with creepy robot partners remains to be seen.
One of the top fears stated by participants is the erosion of privacy. "Around two-thirds of the global sample believe we are headed toward a time when it will be impossible to keep our personal data secure," the report states.
Perhaps linked to potential robot romance is the idea that real-life human interactions are being weakened or broken by technologies like smartphones and social media. Around 8,000 people in the Havas report agreed with the statement: "Modern technology is weakening human bonds," the report says, suggesting that people are becoming more preoccupied with the digital world.
READ MORE: Moaning sex doll joins 'weird' interview on UK morning TV show (VIDEO)
The bizarre sex doll industry has provided some insight into what a relationship between a person and a life-like android might look like, although the existence of the devices has divided opinion. Earlier this year the Foundation for Responsible Robotics (FRR) said the roll out of sex robots by manufacturers meant governments should now act to regulate the trade.
"They are being proposed for the elderly in care homes, which I think is controversial. If you have severe Alzheimer's you can't really tell the difference," Professor Noel Sharkey of the FRR said in July. "We need to think about as a society what we want to do about it."

You can share this story on social media: