Nuclear-capable Russian Tu-95 bombers in 1st-ever Pacific patrol from Indonesia (VIDEO)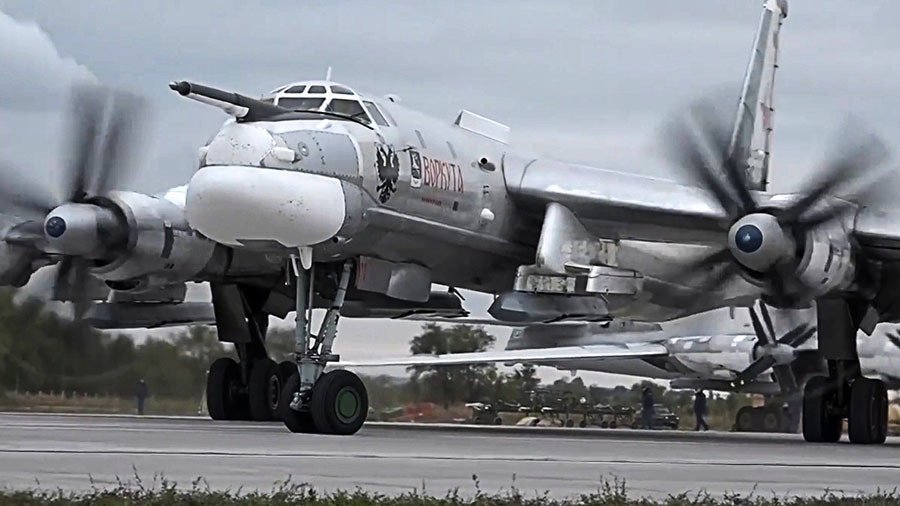 A pair of Russian Tu-95MS strategic bombers has flown a maiden patrol mission over the South Pacific from a military base in Indonesia. Crew and support staff had to deal with an unfamiliar tropical environment to successfully navigate and complete the mission.
The two Tupolev bombers, which can carry nuclear weapons, flew Tuesday from Ukrainka Airfield in Russia's eastern Amur region to the Biak Airbase in Indonesia's easternmost Papua province. The almost 7,000km flight with mid-course in-flight refueling took about 10 hours, which was longer than the pilots expected. Bad weather prompted several changes in their flight course, they told journalists.
A pair of Ilyushin Il-76MD military transport planes had arrived at the site a day ahead, carrying equipment and support crews. The mission, it turned out Thursday, was more than just a social visit to Indonesia. The Tu-95s, known as "Bears" in the West, flew a patrol mission over the southern Pacific before returning to the Indonesian base. The patrol was the first of its kind for the Russian Air Forces and was without incident, despite the persistently difficult weather conditions in the region.
"The goal of the flights is to train pilots in navigating in the southern hemisphere as well as confirm the reliability of the control systems. The support logistics of the Biak Airfield was also confirmed during the mission. The planes were prepared for the patrol on schedule," said Lt. Gen. Sergey Kobylash, commander of the Air Forces' Long Range Aviation division.
Military officials confirmed that the equipment proved to operate adequately in the hot and humid climate of Indonesia. The hosting country also shouldered its part of the joint mission, including fueling the Russian bombers and hosting the visiting Russian military contingent, the general added. Some 110 Russians arrived in Indonesia for the patrol, with Indonesian military officials saying the visit was part of a navigation exercise and will last until Saturday, the Jakarta Post newspaper reported.
Indonesia was a key partner of the former Soviet Union in the early '60s, but relations between them soured when anti-communist sentiment in Indonesia escalated into a wide-scale US-supported purge, resulting in the deaths of an estimated 500,000 supporters of the Indonesian Communist Party. Moscow and Jakarta reestablished ties in the last years of the USSR and became close partners in arms trade in the mid-2000s.
The Indonesian military, currently, has a number of high-tech Russian military hardware in service, including Sukhoi Su-27 and Su-30 fighter jets, Mil Mi-17 and Mi-24 helicopters and BMP-3 infantry fighting vehicles. Moscow and Jakarta are currently negotiating a contract for Su-35 fighters, which, if signed, will make Indonesia the second country after China to acquire the advanced Russian aircraft.
You can share this story on social media: