Al-Qaeda says Trump's Jerusalem decision 'clear challenge to Muslim world'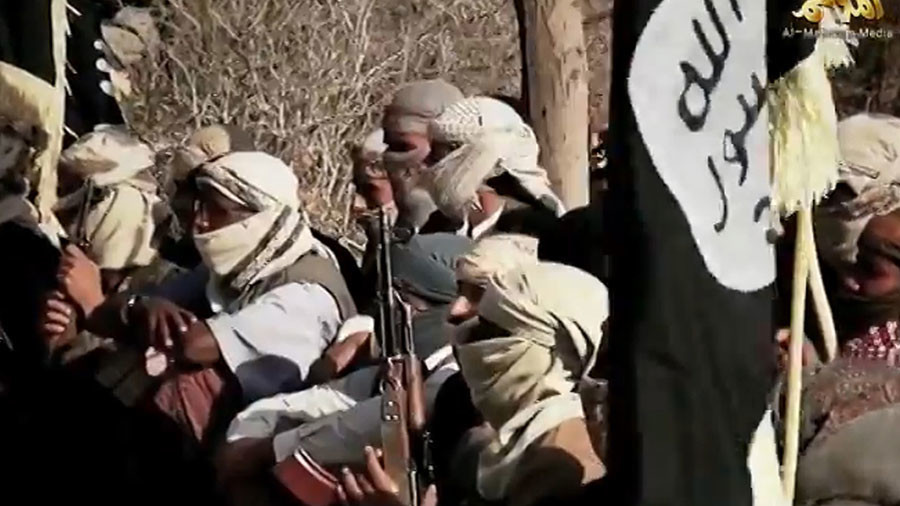 Al-Qaeda in the Arabian Peninsula (AQAP) has condemned Donald Trump's decision to recognize Jerusalem as the capital of Israel. It also urged militants to be ready to support the Palestinians.
LIVE UPDATES: Dozens injured in West Bank clashes following Jerusalem declaration
The Yemeni-based Islamist militant group said Trump's decision was the result of what it called "normalization steps" between some Gulf Arab countries and Israel. It also reinforced its support for the Palestinian cause, calling the recent step by Washington "a clear challenge to the Muslim world." AQAP's statement was carried by the US SITE monitoring group.
The group went on to urge its militants to be ready to support the Palestinians, and appealed to Muslims to help with money and weapons, Reuters reported. It said if no action is taken, holy Muslim sites, including the Kabah in Mecca, "will be sold" and left without anyone to defend it.
AQAP was formed in 2009 after a merging of Al-Qaeda's Saudi and Yemeni branches. The US considers it to be one of the most dangerous groups in the Al-Qaeda network founded by Osama bin Laden. The US has carried out repeated drone strikes on its members and leaders.
The group's statement comes a day after Trump officially announced his decision to recognize Jerusalem as the capital of Israel. "Today, we finally acknowledge the obvious – that Jerusalem is Israel's capital. This is nothing more or less than a recognition of reality," the US president said during a much anticipated speech at the White House.
The decision came despite desperate warnings from across the Muslim world and elsewhere. Many said the move would spur conflict in the region and severely retard the Israeli-Palestinian peace process.
Trump's declaration was predictably hailed by Israeli Prime Minister Benjamin Netanyahu in a prerecorded speech released just moments after Trump's announcement. In his address, Netanyahu said his people would be "forever grateful" for the "historic decision." He also urged other countries to follow America's example.
Across the Muslim world, Trump's announcement on Jerusalem was met with condemnation and protests, including in Turkey, Jordan and Pakistan. Palestinians in Gaza and the West Bank city of Ramallah also rallied against the move.
The President of the Palestinian Authority, Mahmoud Abbas, called the measure "deplorable and unacceptable" and said that by this action, Washington had negated its role of peace process sponsor.
Earlier on Thursday, Iraqi paramilitary group Harakat Hezbollah al-Nujaba said US troops may become targets following the decision. "Trump's stupid decision will be the big spark for removing this entity [Israel] from the body of the Islamic nation, and a legitimate reason to target American forces," said Akram al-Kaabi, the Iraqi organization's leader, as quoted by Reuters.
You can share this story on social media: