US troops may become targets after US Jerusalem decision - Iraqi paramilitary group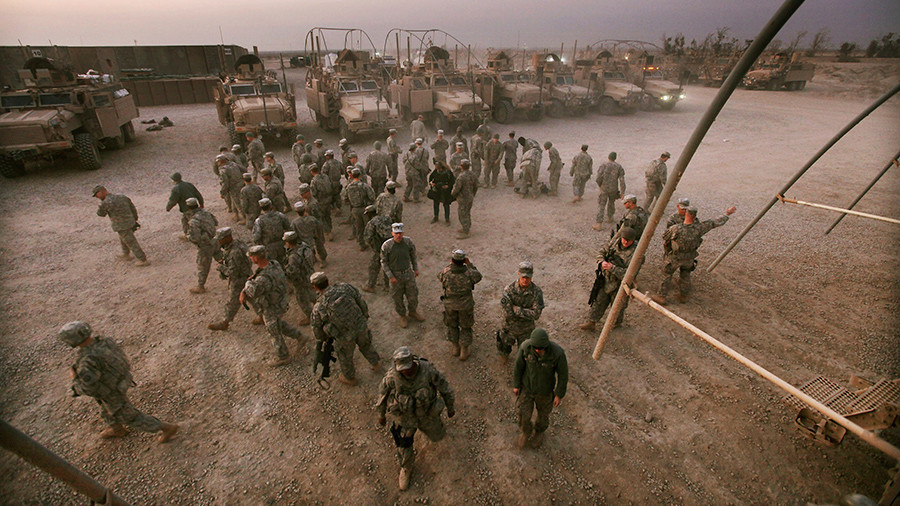 The US decision to recognize Jerusalem as Israel's capital may become a "legitimate reason" to attack American troops in Iraq, Shia paramilitary group Harakat Hezbollah al Nujaba said.
"Trump's stupid decision... will be the big spark for removing this entity [Israel] from the body of the Islamic nation, and a legitimate reason to target American forces," said Akram al-Kaabi, the Iraqi organization's leader, as cited by Reuters.
READ MORE: Hamas leader calls for 'new intifada in the face of Israel'
The US, which is leading a large-scale operation against Islamic State (IS, formerly ISIS) in Iraq, has about 5,200 troops in the country, according to the latest statement from the US Defense Department.
Nujaba, mostly made up of Iraqis, has about 10,000 fighters, according to Reuters data. Being a part of the Iran-backed Popular Mobilization Forces (PMF), the group is considered to be one of the most important militias in Iraq.
In November, Ted Poe from the US House of Representatives proposed imposing "terrorism-related sanctions" on Nujaba. The text of the document says Nujaba is "an affiliated faction" of the US-designated foreign terrorist organization Kata'ib Hezbollah, which also fights with the PMF.
Nujaba's leader Akram al-Kaabi was earlier designated by the Department of the Treasury "for threatening the peace and stability of Iraq." The bill claims Kaabi took part in "multiple mortar and rocket attacks" on the Green Zone in Baghdad in 2008.
On Wednesday, Donald Trump officially announced his decision to recognize Jerusalem as the capital of Israel, where he plans to relocate the US Embassy. The president admitted the move will cause dissent, but says it could help resolve the Arab-Israeli conflict.
A number of world powers, including Germany, Turkey, and Russia, expressed grave concern over the Trump administration's decision.
On Thursday, the Iraqi government demanded the US reverse its decision to recognize Jerusalem as Israel's capital. "We caution against the dangerous repercussions of this decision on the stability of the region and the world," a government statement reads. "The US administration has to backtrack on this decision to stop any dangerous escalation that would fuel extremism and create conditions favorable to terrorism."
You can share this story on social media: