US B-1B bomber flies over Korean Peninsula in show of force – S. Korean media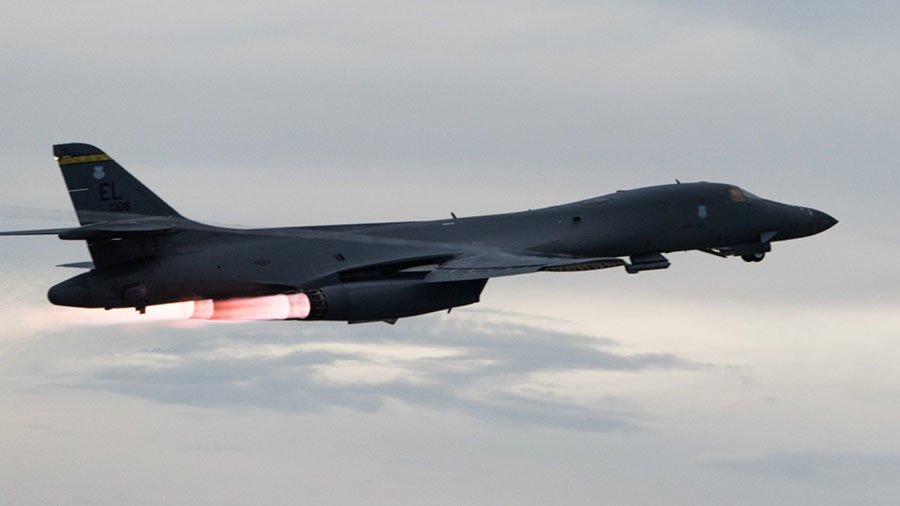 An American B-1B Lancer strategic bomber and F-22 Raptor stealth fighter jets accompanied by South Korean military aircraft have conducted simulated bombing drills in the skies over South Korea amid rising tensions on the peninsula, Yonhap News Agency says.
The maneuvers are part of the unprecedented joint air force Vigilant Ace 18 drills which kicked off Monday.
The drills staged by the US and South Korea feature hundreds of warplanes conducting mock attacks on North Korean nuclear and missile objects in different war scenarios, but are claimed to be of a "defensive nature."
On Wednesday, the US Air Force dispatched B-1B aircraft, F-22 Raptor fighter jets, as well as several F-35 stealth jets and F-16 fighter planes to take part in joint drills at the Pilsung Firing Range in Gangwon Province, Yonhap reports, citing the Joint Chiefs of Staff. Seoul sent F-15Ks and KF-16s to join the American squadron.
The total number of warplanes taking part in the maneuvers was not revealed, and there could be more than one B-1B bomber. But Washington usually sends two B-1Bs to the area.
It is the first time the fifth-generation jets joined the Vigilant Ace exercise.
The B-1B, commonly referred as the 'Bone,' is a heavy strategic bomber used by the US Air Force. It can deliver non-precision gravity bombs, with a maximum speed of 1,450kph and takeoff weight of up to 216,000kg.
The bombers have been deployed in combat operations in Afghanistan and Iraq since 2001. At least six such warplanes are reportedly stationed in the US base in Guam in the western Pacific Ocean, and Washington could use them for a preemptive strike on North Korea's missile sites, according to NBC.
READ MORE: 'Best of bad options': US has plan to strike N. Korea nuclear sites with B-1 bombers, reports say
Various military maneuvers conducted by the US and its allies off the North Korean border have become more frequent as Pyongyang continues nuclear and missile tests, claiming that Washington threatens its national security.
The US has not ruled out a military option against North Korea, which claims its missiles can reach US soil.
US drills diminish possible dialogue with Pyongyang – Russia's deputy FM
The US military presence and provocations in the region hinder the possibility of dialogue with North Korea, which is willing to negotiate, according to Russian Deputy Foreign Minister Igor Morgulov.
"Both sides [North Korea and the US] are provoking each other," Morgulov told the press. He blamed Washington's aggressive actions for triggering Pyongyang's tests.
"How else can these endless massive drills be evaluated, if they are openly conducted near the borders of the DPRK [North Korea] and enact scenarios like occupation of the North Korean territory, elimination of its leadership and military infrastructure? What is it if not a hostile US policy?" Morgulov said.
Moscow has repeatedly called for restraint in the turbulent region.
In October, Russian President Vladimir Putin urged all sides to tone down their rhetoric and engage in "face-to-face dialogue."


You can share this story on social media: