2 US B-1B strategic bombers conduct firing drills with South Korea & Japan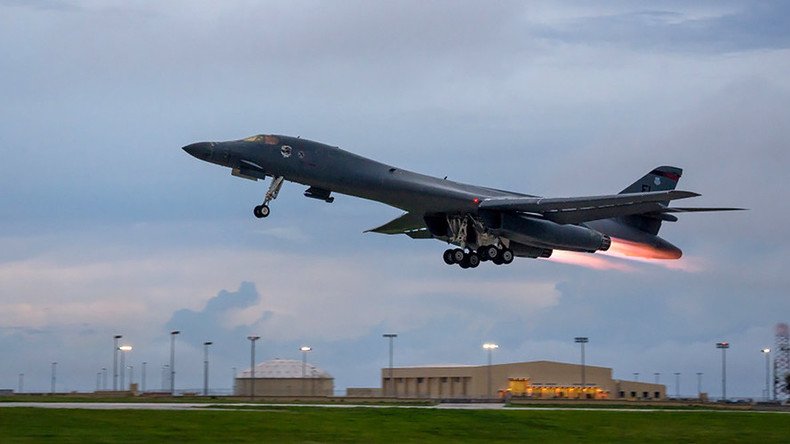 Two American B1-B bombers have simulated live fire drills over the Korean peninsula, Yonhap news agency reports, citing South Korea's Joint Chiefs of Staff.
Two US Pacific Command B-1B Lancers were joined by Japanese and South Korean fighter jets in the vicinity of the Korean Peninsula, the US military said in a statement according to Reuters.
The American supersonic bombers flew from Guam and joined two South Korean F-15K fighter jets near the peninsula to stage a "simulated air-to-ground missile-firing drill" which Seoul's military said took place Tuesday night.
South Korea's Joint Chiefs of Staff noted that the "training of virtual air-to-ground missiles" took place over the Sea of Japan and the Yellow Sea.
"This exercise is part of regular training to enhance the deterrent effect," the South Korean Air Force said in a statement, Yonhap reports.
The drill, the statement added, demonstrated the strong willingness and ability of allies to counter the North Korean nuclear and missile threats.
The drills over the Korean Peninsula come amid heightened tensions around Pyongyang's nuclear and missile test launches. On Monday, the US Defense Secretary James Mattis said the military should be ready to provide all options to the White House on dealing with North Korea.
"There is one thing the US Army can do and that is you have got to be ready to ensure that we have military options that our president can employ if needed," Mattis said at the annual US Army Association (AUSA) conference. He said the US is currently "in a diplomatic-led effort," but pointed out that the UN Security Council has unanimously voted twice in a row to impose tougher sanctions on North Korea.
READ MORE: S. Korea & US boost surveillance of North amid fears of new missile tests – media
North Korea conducted its sixth nuclear test on September 3, forcing the UN Security Council to introduce new sanctions against the country. The UN actions, however, did not stop Pyongyang from launching a series of ballistic missiles later in September while vowing to destroy the US and their allies with nuclear weapons if provoked.
With Pyongyang and Washington whipping up tensions, Moscow and Beijing have repeatedly called on both parties to remain calm. Russia and China have called for the implementation of the so-called "double freeze" initiative that envisages North Korea suspending its nuclear and missile program in exchange for the US and South Korea abandoning their military exercises in the region. The initiative been rejected by Washington.
You can share this story on social media: