'Music for freedom': Watch 10,000 sing & play in Barcelona square to support jailed Catalan leaders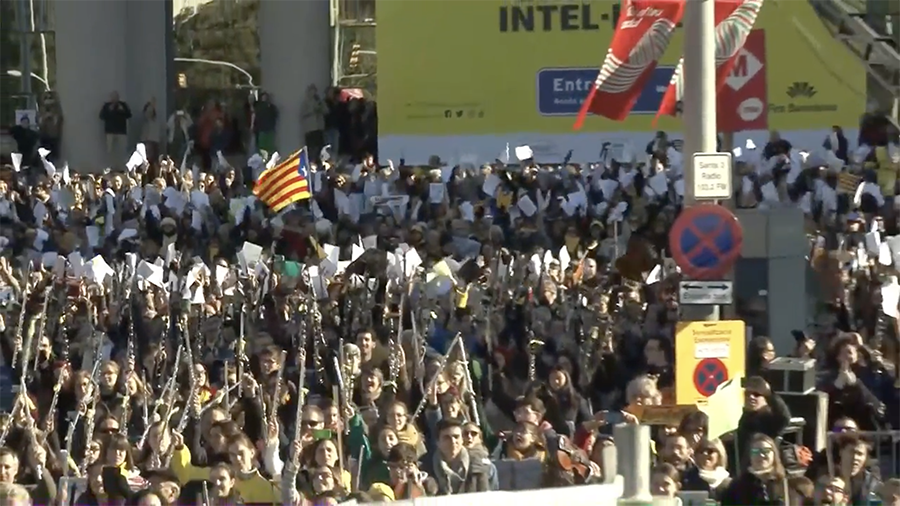 Some 10,000 musicians and volunteers took to the heart of Barcelona to stage a flashmob-like concert in support of the imprisoned pro-Catalonian independence leaders and activists. It comes a day ahead of a court decision on their possible release.
People flooded one of Barcelona's most prominent squares Plaza de Espana on Sunday to join the concert organized by the group "Music for Freedom" and Catalonian cultural organization Omnium Cultural. The event was held in solidarity with eight sacked Catalan leaders and two pro-independence activists, Jordi Sanchez and Jordi Cuixart, who had been jailed for sedition, rebellion and misuse of public funds following the Catalan independence referendum. The organizers also said that music is the perfect means to defend democracy and freedom.
Footage from RT's video agency Ruptly showed in groups comprising the improvised orchestra among the massive crowd. They performed several music pieces, including Anthem of Europe.
On Monday, the Supreme Court in Madrid ordered the release of six Catalan politicians , who were set bail of 100,000 euros ($118,570). However two more ousted high-ranking regional government officials, Vice President Oriol Junqueras and Catalan Interior Minister Joaquim Forn, were refused bail.
The officials are to stay in custody together with two other prominent members of the Catalan civic groups Asamblea Nacional Catalana (ANC) and Omnium Cultural, Jordi Sanchez and Jordi Cuixart.
READ MORE: Madrid bans Barcelona's yellow-lit fountains, which 'plug separatism'
The Catalan leaders were arrested on charges of sedition, rebellion and misuse of public funds in November following Catalonia's independence vote and subsequent unilateral declaration of independence by the now-deposed President Carles Puigdemont. Madrid considered the plebiscite illegal and took the rebellious region under direct control, depriving it of broad autonomy. The Spanish government sacked the Catalan parliament and called early elections scheduled to take place on December 21.
Meanwhile Puigdemont, who along with four of his former ministers lives in exile in Belgium, plans to participate in the forthcoming elections despite the threat of persecution of Madrid, which requested that Brussels extradite him.