Precarious pagoda: Shanghai monument has twice the tilt of leaning Tower of Pisa (VIDEO)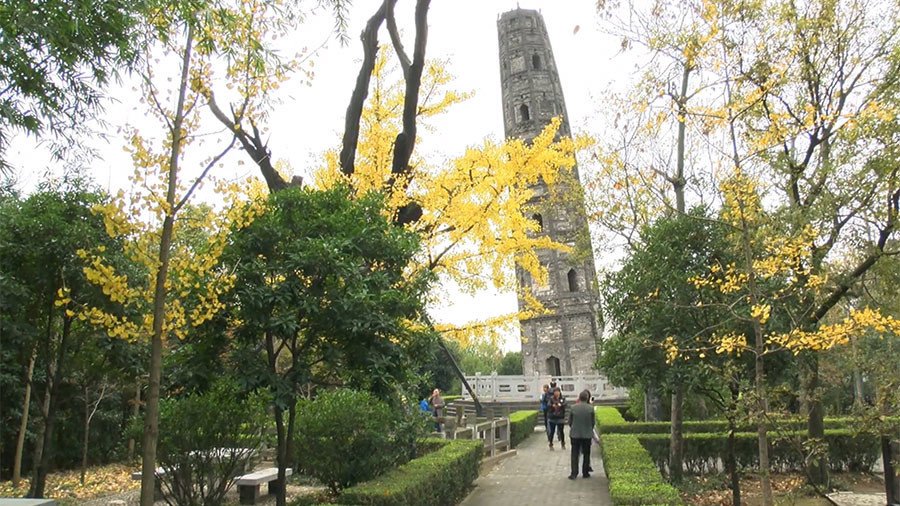 Italy's Pisa may be famed for its extraordinary gravity-defying tower, but an ancient pagoda in Shanghai boasts a slant almost twice as big, with a stunning 7.1-degree lean.
The Huzhu Pagoda, a Buddhist temple in the city's Songjiang District, was built nearly 1,000 years ago, in 1079, during the Northern Song Dynasty.
The 20 meter (65.6 ft) tower tilts because it was built on two different types of surfaces, causing a dramatic lean almost twice that of the famous leaning tower of Pisa. The Italian tower once had a 5.5-degree tilt. However, following recent restoration work, it now leans at a 3.99 degree angle.
READ MORE: ISIS-sympathizer that threatened Leaning Tower of Pisa to be expelled from Italy – media
Li Kongsan, an official at the cultural heritage bureau of Shanghai, said the city inspects the pagoda twice a year and that the leaning is under control.
Emphasizing that the tower is not in danger of falling over, local resident Chuangen Tang suggested an alternative title for the site: "This tower is so well preserved it has another name: "Won't Topple in a 1,000 Years Ancient Tower.'"
The tower was refurbished by the Eight-Nation Alliance at the beginning of the last century, Tang explained. The alliance, which included Russia, the US, Britain and Japan, was a military coalition set up in response to the anti-colonial Boxer rebellion which gripped China from 1899 to 1901.
"Every piece of glass was painted, and each country's flag was there too. In 1966, after the Cultural Revolution, the windows were all broken. This was a big loss for our country. We just can't get that kind of glass any more," he said.
While the alliance may have refurbished the Huzhu Pagoda, it took the opposite approach entirely with Beijing's famous Summer Palace, which was ransacked towards the end of the rebellion.
You can share this story on social media: