ISIS-sympathizer that threatened Leaning Tower of Pisa to be expelled from Italy – media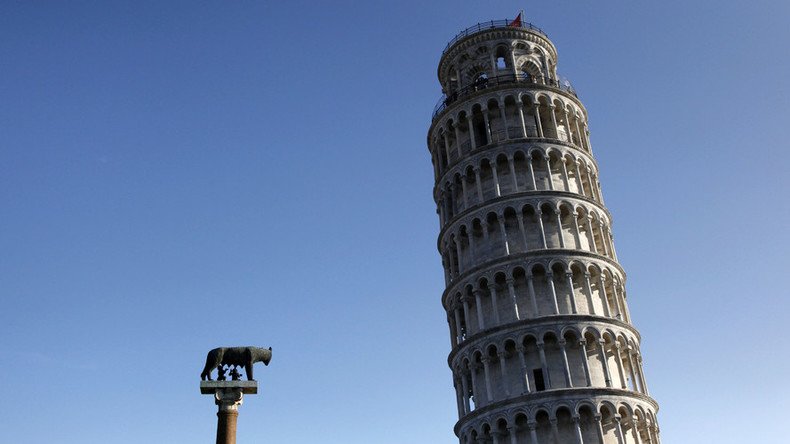 An Italian court has ordered the expulsion of a Tunisian national suspected of planning an attack on the Leaning Tower of Pisa, Italian media reported. He was also accused of praising militants that had carried out terrorist attacks in Western Europe.
Bilel Chiahoui was arrested on Thursday in a wooded area between the cities of Pisa and Livorno after an 8-hour-long search in which 100 police officers took part, La Stampa reported.
The police operation was prompted by a Facebook post in Arabic, which listed the names of "martyr" jihadists and ended with Chiahoui's name, date of birth (February 12, 1990), and supposed date of death (August 11, 2016), while noting that he had died in Pisa, La Stampa reported. The post was said to be from Chiahoui's Facebook account, which was registered under the false name "Rafael van der Vaart" – the same as the famous Dutch soccer player's.
Chiahoui was also reported to have praised terrorists who had carried out extremist attacks in Europe in social media multiple posts, while promising to carry out an attack on the Leaning Tower of Pisa, one of Italy's biggest tourist attractions. His Facebook page also contained numerous photographs of him in Pisa.
The Tunisian was already known to law enforcement agencies for drug dealing.
The judge presiding over Chiahoui's case said there was "evidence the Tunisian sympathized with extremism and ISIS" and ruled that the 26-year-old should be expelled from Italy, AFP reported.
Italian intelligence believes that Chiahoui became radicalized within the last few months and had established direct contacts with Islamist terrorists. He is alleged to have been in touch with two Tunisian militants that recently died fighting in the Middle East.
The man was accused of publishing texts praising Islamic State (IS, formerly ISIS/ISIL) and writing posts on social networks praising the terrorist organization.
This was the 96th deportation order to have been issued since early 2015, 30 of which have been handed down this year.
At the end of June, Italian Interior Minister Angelino Alfano said that a 30-year-old from Bangladesh who had arrived in Italy from Turkey should be deported.
Meanwhile in May, Italy arrested three men for allegedly planning terror attacks across Europe. Two of them had already been granted refugee status.
Two Afghans, Hakim Nasiri, 23, and Gulistan Ahmadzai, 29, were detained in Bari, and a Pakistani man, Zulfiqar Amjad, 24, was arrested in Milan. Upon detaining the suspects, police managed to crack their smartphones and found evidence that the group had been seeking targets for terror attacks.
Among the data were photographs of popular landmarks in London, Rome, and Paris, video tributes to friends and relatives of suspected Islamists held by the US in Guantanamo, and radical prayers and images of weapons. Police also said the phones contained photographs of other "sensitive targets," such as airports, malls, and hotels, as well as information on smuggling migrants to Europe.
"It was clear these were not tourist images. They appear to have been scouting sensitive sites," Roberto Rossi, an Italian prosecutor, told a press conference. In one of the pictures, Nasiri poses with an automatic rifle which, Rossi noted, was "not an easy weapon to find on the market."
You can share this story on social media: