Italy arrests 3 terror suspects planning attacks in London, Paris, Rome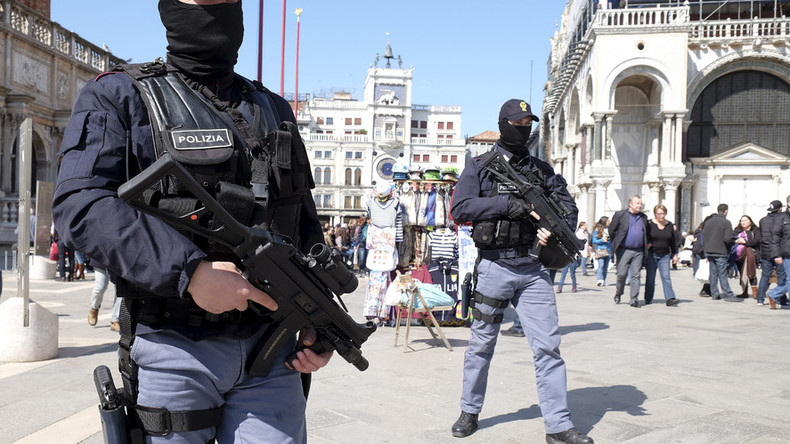 Italy has arrested three men, two of whom had refugee status, who had allegedly been planning terror attacks across Europe. Police found numerous images of tourist sights, airports and malls in Rome, Paris and London on the suspects' phones.
Two Afghans and a Pakistani man were arrested in Italy on Tuesday. Afghans Hakim Nasiri, 23, and Gulistan Ahmadzai, 29, were detained in Bari, Southern Italy and the Pakistani man Zulfiqar Amjad, 24, was captured in Milan. Amjad and Ahmadzai stand accused of facilitating illegal immigration and Nasiri has been charged with committing international terrorism.
Upon detaining the suspects' police managed to crack their smartphones and found evidence that the group had been looking for targets to carry out terror attacks.
Among the data found inside the men's phones were photographs of popular landmarks in London, Rome and Paris, video tributes to friends and relatives of suspected Islamists held by the US authorities in Guantanamo, radical prayers and images of weapons. Police also said the phones contained photographs of other "sensitive targets", such as airports, malls and hotels and information on smuggling migrants to Europe.
"It was clear these were not tourist images. They appear to have been scouting sensitive sites," Roberto Rossi, an Italian prosecutor, told a press conference. In one of the pictures, Nasiri was posing with an automatic rifle which, Rossi noted, was "not an easy weapon to find on the market."
Hakim Nasiri used to live in a refugee center in Bari, the investigators said. Gulistan Ahmadzai, who received refugee status back in 2011, was living in another town in Italy and had planned to leave for Calais to participate in smuggling activities.
Police fear that the suspects took advantage of Europe's open door policy and used migrant routes for illegal activities. Officials claim that the three men were able to travel across Europe without having sufficient resources, meaning that they most likely received funding through contracts, possibly made with the terror group.
READ MORE: Italy busts ISIS supporters cell mulling attacks on Vatican & Israeli embassy in Rome (VIDEO)
"There's a link between the terrorist organization circuits and illegal immigration," said Colonel Vincenzo Molinese, the head of the local Carabinieri police but added there was no direct evidence that the suspects planned to smuggle terrorists into Europe.
Police believe the suspects were part of a jihadist cell linked to Islamic State (IS, formerly ISIS/ISIL), which was established in Puglia in order "to carry out violent attacks with the purpose of international terrorism, in Italy and abroad," Reuters reported citing the men's arrest warrant.
According to the warrant, two other men who are also said to be part of the group remain on the run and are believed to be in Afghanistan. Investigators also say that the group could be involved in providing logistical support to Islamic State members.
Despite data obtained via phones, Bari prosecutor Giuseppe Volpe said at a news conference that there was "absolutely no indication of an imminent attack in Italy." At the same time prosecutor Elisabetta Pugliese said at the same conference that the investigation was "worrying."
The news comes as the British Home Secretary Theresa May urged a review of border security fearing the country was vulnerable to illegal immigration. The Home Secretary said that Britain intends to heighten its "maritime capacity" in order to withstand illegal migrants' attempts to land on British soil.
France who is hosting Cannes Film Festival which is to begin on Wednesday has intensified security measures by deploying 500 extra security personnel to secure the event.
"We must keep in mind as we prepare to open this festival, that we are faced with a risk which has never been as high, and faced with an enemy determined to strike us at any moment," Bernard Cazeneuve, French interior minister, said.
"We must demonstrate extreme vigilance at all times."
You can share this story on social media: