CIA chief & Netanyahu threaten Iran over presence in Iraq & Syria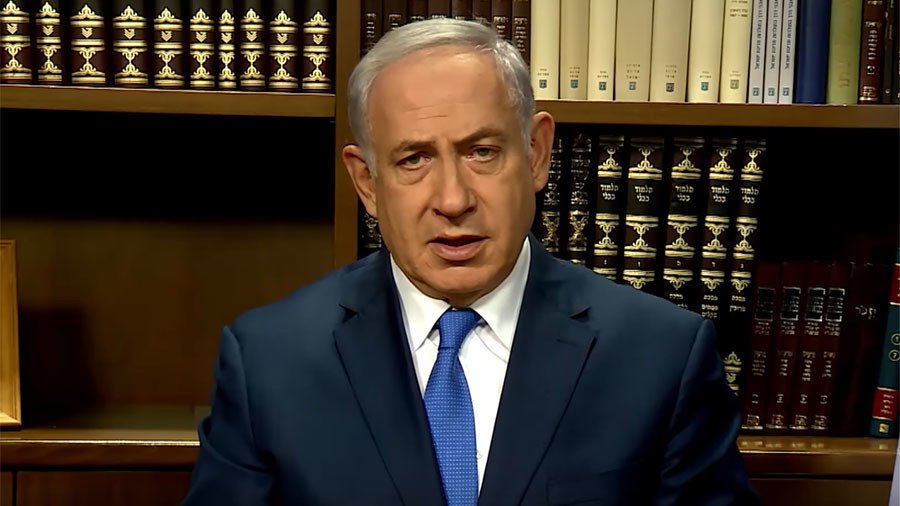 Israel and the US won't tolerate Iran's presence in Syria and Iraq as it goes against their interests, Israel's PM and the CIA's director said in separate statements. The warnings follow an Israeli strike against a "military facility" near Damascus.
In a video message released hours after missiles struck targets near Damascus, Prime Minister Benjamin Netanyahu said the Iranian military presence in Syria poses an existential threat to Israel and would not be tolerated.
"Let me reiterate Israel's policy: We will not allow a regime hell-bent on the annihilation of the Jewish state to acquire nuclear weapons. We will not allow that regime to entrench itself militarily in Syria, as it seeks to do, for the express purpose of eradicating our state," said Netanyahu.
The missile strike, which occurred just after midnight on Saturday, is said to have destroyed a Syrian weapons depot – although some reports claim the attack targeted an Iranian military facility allegedly being built in the area.
The Iranian-backed Hezbollah, fighting alongside the Syrian Army, has played a key role in ground operations against Islamic State (IS, formerly ISIS) militants in Syria. However, Israel says Iran is using Hezbollah to gain a military foothold near Syria's disputed Golan Heights. Most of the region has been occupied by Israel since 1967.
In October, Moscow agreed to a new buffer zone along Israel's border with Syria, which Iranian and Hezbollah forces would not be allowed to enter.
Since the start of the conflict in March 2011, numerous reports of Israeli attacks on the Syrian Arab Army and Hezbollah have surfaced. However, Tel Aviv does not as a rule comment on reported Israeli strikes.
Netanyahu's warning to Tehran coincides with a similar statement made by CIA Director Mike Pompeo about the Iranian military presence in Iraq. Pompeo said Saturday that he sent a letter to Gen. Qassem Soleimani, leader of Iran's Islamic Revolutionary Guard Corps and its elite Quds Force, warning Tehran not to interfere with American interests in Iraq. But Soleimani left the letter unopened, according to Pompeo.
"What we were communicating to him in that letter was that we will hold he and Iran accountable," Pompeo told a defense forum at the Ronald Reagan Presidential Foundation and Institute in Simi Valley, California. "We wanted to make sure that he and the leadership of Iran understood that in a way that was crystal clear."
Similar to the dynamic in Syria, Iranian-backed militias have played a central role in pushing Islamic State and other jihadist groups out of Iraq.
At an October security conference in Baghdad, a Shiite militia leader said Shia Iran provided most of the support for Iraq's fight against terrorism – and not the US-led international coalition.
Hadi al-Amiri, head of the Badr militia, claimed that "Iran is the one that helped on the ground in Iraq, and not the international coalition, during the war against ISIS."
Despite grumblings from Israel and the United States, Russia has downplayed accusations that Iran's part in anti-terror operations is a cover for sinister intentions. Along with Russia and Turkey, Iran is a guarantor of the current ceasefire and de-confliction zones in Syria.
"We do not have any information that someone is preparing an attack on Israel," Russian Foreign Minister Sergey Lavrov said in August.
You can share this story on social media: