Police use water cannon as protesters try to disrupt AfD summit (PHOTOS, VIDEO)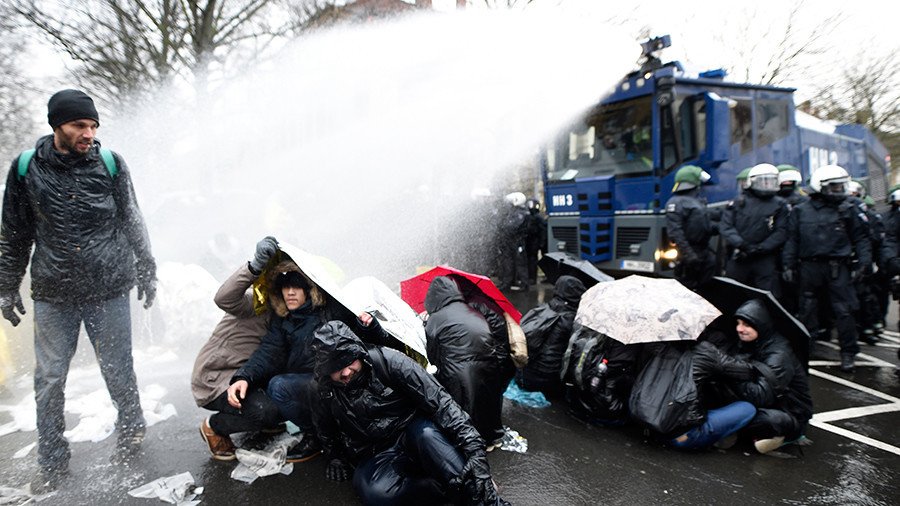 Police have deployed a water cannon on protesters despite near-freezing conditions, as thousands marched against a leadership summit being held by the right-wing Alternative for Germany (AfD) party in Hannover.
Protests began peacefully on Friday evening, with demonstrators holding up banners reading "Our Hannover - colorful and in solidarity," and continued Saturday when their number swelled to as many as 6,500 people, according to the DPA news agency. On the second day however, altercations between police and protesters broke out as some activists, including members of Antifa, tried to block the road to the Hannover Conference Center where the summit was being held. Despite the near-freezing temperatures outside, officers deployed a water cannon in an attempt to disperse the crowd.
Injuries were reported on both sides during the standoff, which saw one protester's leg being broken as he was dragged away by police. AfD MP Kay Gottschalk also told the DPA news agency that he had been attacked and injured by the protesters.
But despite the chaos, demonstrators remained on the streets throughout the day.
"No one can dictate what it means to be German," one young demonstrator told DW. "We got rid of the far-right after World War II. We can do it again."
Barriers and barbed wire had been erected around the conference center and thousands of extra police officers were deployed in advance as the authorities expected trouble to erupt. The AfD's Eurosceptic, anti-immigration and anti-Islamic politics have divided opinion in Germany, with even co-leader Frauke Petry abruptly quitting the party in September, citing its slide toward the radical far-right.
The two-day summit in Hannover was called to decide who will fill the void in Petry's absence and take over leadership of the party. The more nationalist faction is represented by Petry's co-chair Joerg Meuthen, who is standing for reelection. He is opposed by Georg Pazderski, an ex-army colonel who heads up the party's Berlin branch. Parliamentary leader Alice Weidel isn't running, but has thrown her support behind Pazderski, while Alexander Gauland, another key figure in the party, has suggested he doesn't support Pazderski and may also announce his candidacy.
The AfD won seats in the Bundestag for the first time this year, winning 13 percent of the vote and representation in 14 of Germany's 16 state parliaments in the September general election. However, they remain shunned by other, more mainstream parties.
You can share this story on social media: