India may start jailing for 'instant divorce' still used by local Muslims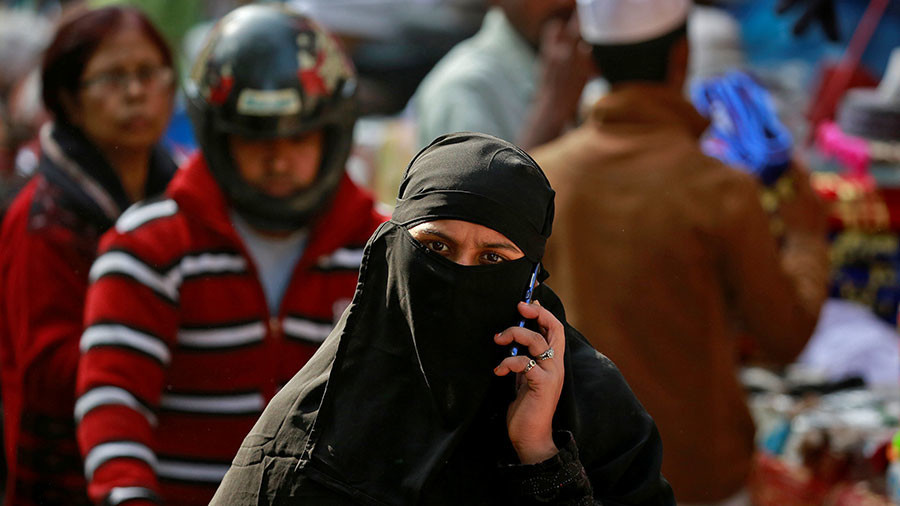 A law has reportedly been drafted in India to ban the controversial practice of instant divorce, known as triple talaq, with violators facing three years in jail. Dozens of Muslim men still use the practice yearly, including by means of WhatsApp or SMS.
The draft law – entitled the Muslim Women Protection of Rights on Marriage Bill – was sent to the authorities of Indian states on Friday, a senior government official said as reported by The Indian Express.
"Triple talaq" amounts to divorce in traditional Muslim circles in India, although it is considered to be a glaring misinterpretation of the Koran. The apocryphal ritual is performed when a husband utters the Arabic word 'ṭalaq,' meaning "I divorce you," to his wife three times.
The draft law was prepared by an inter-minister group led by Home Minister Rajnath Singh. The document states that a woman whose husband gave her a triple talaq can to report him to authorities and demand "subsistence allowance" for herself and minor children, NDTV reported.
Should a husband decide to give his wife an instant divorce online (via e-mail, WhatsApp or SMS), such a procedure will also be illegal, the draft clarifies. "The provision of subsistence allowance and custody has been made to ensure that in case the husband asks the wife to leave the house she should have legal protection," the official said.
The draft comes as the practice of "instant divorce" continues across India: "There have been 177 reported cases of instant talaq before the judgement and 66 after the order this year... Uttar Pradesh tops the list. Hence, the government planned a law."
The law can be applied everywhere in India, except Jammu and Kashmir province, which has a Muslim-majority population. It is not clear exactly why this bill won't be applied there.
A range of Muslim-majority countries, such as Turkey, Egypt, Bangladesh and Pakistan, have long since abolished the instant divorce. However, it remains legal under Indian law. In April this year Prime Minister Narendra Modi gave his opinion of the triple talaq by saying that "injustice should not be done to Muslim women."