Egyptian lawyer says it's 'national duty' to rape women in ripped jeans, sparking fury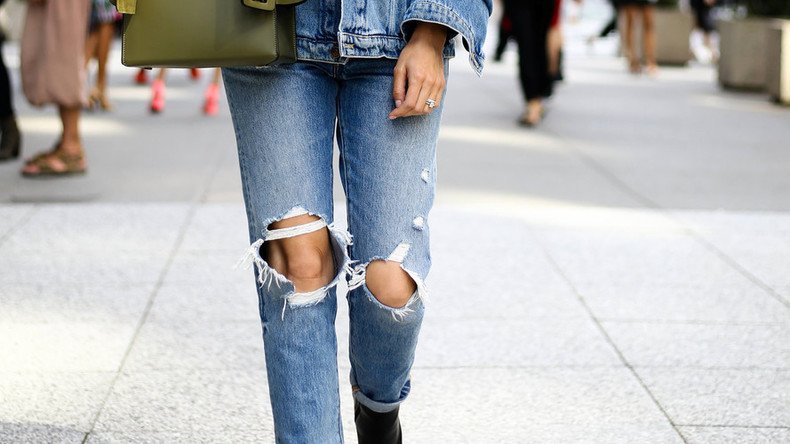 Egypt's National Council for Women's Rights (NCWR) is filing a report with the country's prosecutor-general following televised remarks made by a controversial lawyer who said it was "a national duty" to rape women who wear ripped jeans.
"Girls must respect themselves so others respect them. Protecting morals is more important than protecting borders," lawyer Nabih Al-Wahsh said during a panel discussion on TV. He doubled down on his comments, adding that it was "a national duty" to rape girls who wear ripped jeans, as he claimed they were inciting sexual harassment.
Al-Wahsh is notorious for his controversial statements and has stirred up national controversy while drawing the ire of feminists and women's rights activists for the remarks he made in October. Al-Wahsh appeared in a heated debate about "sexual deviance, debauchery" and prostitution on the Infirad show on the Al-Assema channel in mid-October.
NCWR head Maya Morsi blasted Nabih Al-Wahsh's comments as both a "flagrant call for rape" and a direct violation of the Egyptian constitution in a statement published Sunday. The council is filing a complaint to the Supreme Media Council against both Al-Wahsh and the Al-Assema channel.
Al-Wahsh previously described Egypt's National Center for Women as a "suspicious den" carrying out a Western agenda that was responsible for the "spread of divorces" and the "destruction of Egypt," according to Al Watan.
A 2013 report commissioned by the UN found that 99 percent of women in Egypt had experienced some form of sexual assault. For context, the Egyptian government only criminalized sexual assault in 2014.
Al-Wahsh defended his comments by saying "his daughter would also deserve that [rape, sexual harassment] if she decided to wear jeans that are ripped from the back," reports Daily News Egypt.
"My daughters are wearing plain trousers," he added, in an interview with to Al Watan. "We must refer to Eastern customs and traditions derived from the divine religions."
"I do not have anything to do with it, but [if they] cut off the pants from the back, we have nothing to protect them... this is an open suit for any young man to harass her and have sex with her, " he added.
You can share this story on social media: