Islamic instant divorce practice reviewed by India's top court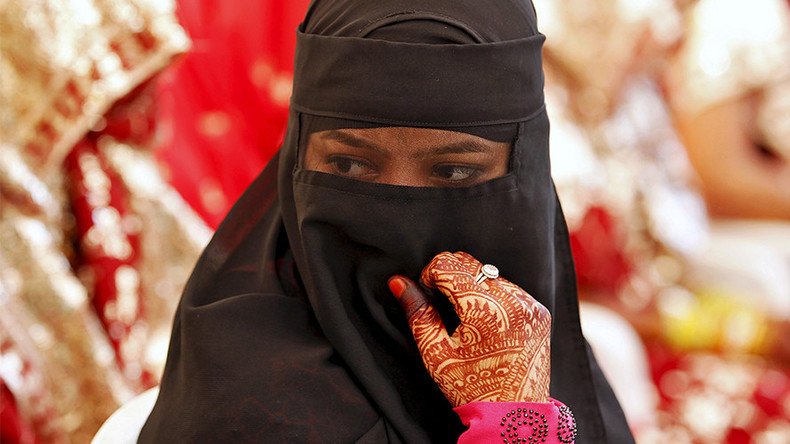 A multi-faith judge bench in India has opened hearings on whether the controversial practice of instant divorce violates the rights of Muslim women.
The instant divorce in Islam is called the "triple talaq", as a man can divorce his wife by simply uttering "talaq" (divorce) three times.
The five Supreme Court judges, all of different faiths – Hindu, Sikh, Christian, Zoroastrian and Muslim started six-day hearings on the issue on Thursday.
They are reviewing a batch of petitions claiming the practice is unconstitutional.
The Supreme Court is to rule on whether the instant divorce practice is fundamental to religion.
"We will also examine whether triple talaq is a part of enforceable fundamental right," the court said, as cited by the Hindu.
Opposing sides in the hearings have been given three days for their arguments.
Among the seven petitions filed to the Supreme Court by Muslim women, some complained that they had been divorced through a letter, postcards, as well as on Facebook and Whatsapp.
While a range of Muslim majority countries, such as Turkey, Egypt, Bangladesh and Pakistan, have long abolished the instant divorce, it is still legal under the Indian constitution.
The Muslim organizations favoring the practice say neither government or courts should intervene into personal and religious affairs.
Prime Minister Narendra Modi last month expressed hope that "powerful people will emerge from the community in this country (to) eradicate outdated practices, evolve modern systems," also stating on a different occasion that "injustice should not be done to Muslim women," NDTV quotes him as saying.
Islam is the second largest religion in India with roughly 172 million Muslims, according to the 2011 census.
You can share this story on social media: