Plated predator: Peek inside Russian plant making Tigr armored vehicle (VIDEO)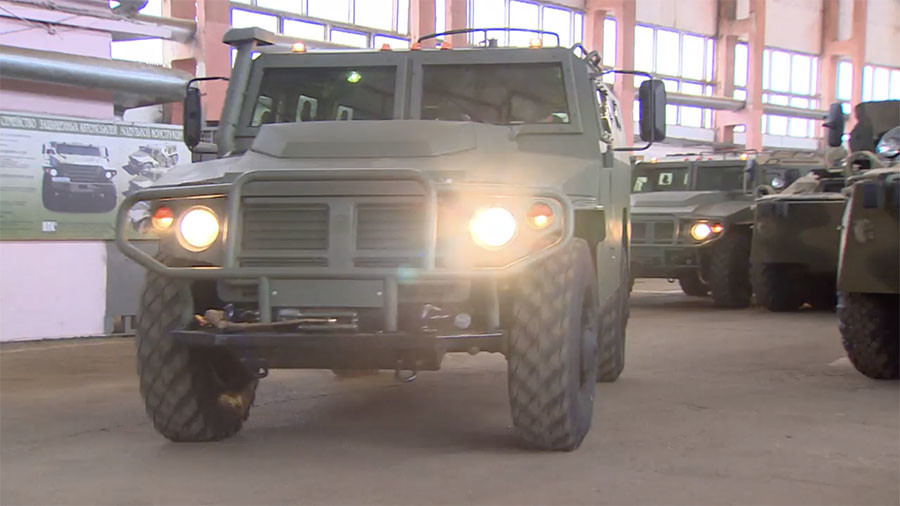 The GAZ Tigr is Russia's answer to the need for transporting troops rapidly across rough terrain, under the risk of enemy ambush or mines. RT's video agency crew visited the plant in Arzamas where the popular armored vehicle is produced.
The Tigr (Russian for Tiger) started its life as a design made for foreigners. A company based in the United Arab Emirates contracted the development of an all-terrain armored vehicle to a subsidiary of GAZ, a Russian automotive giant. The off-roader was first shown in 2001, but the cooperation was then stopped, with both parties in possession of the technology created under the joint project. The Emirati company developed it into a vehicle called Nimr, while Russian developers branched towards the Tigr.
The production of the vehicle is located the Novgorod region about 380km east of Moscow in the city of Arzamas. The plant produces other military hardware like armored personnel carriers or armored medical transport vehicles, but the Tigr has been its specialty since 2005.
The producer prides itself on the design and its many derivatives made for the military, law enforcement, special forces and other uses. With a road clearance of 400mm, Tigr can brave Russian forest wilderness and snowy fields, crossing creeks and bogs with ease despite its hefty 7-ton weight.
The armed versions of the vehicle are usually equipped with a 7.62mm or a 12.7mm machine gun, or a 30mm autocannon or grenade launcher. However, there are more exotic varieties of armament, including anti-tank missiles or a remotely-controlled turret.
READ MORE: Ride V-Day military hardware through Moscow with RT's 360 videos
Some other nations such as Mongolia and Uruguay, or even NATO member Slovakia, have purchased Tigr vehicles for their own needs. China adapted the design for the PLA, calling that version YJ2080 and showcasing it last year at the China Military and Civilian Integration Expo. Egypt reportedly wants to by some Tigrs as part of its boosted military cooperation with Russia.
You can share this story on social media: