MMA fighter cuts own stomach & arm in detention (GRAPHIC VIDEO)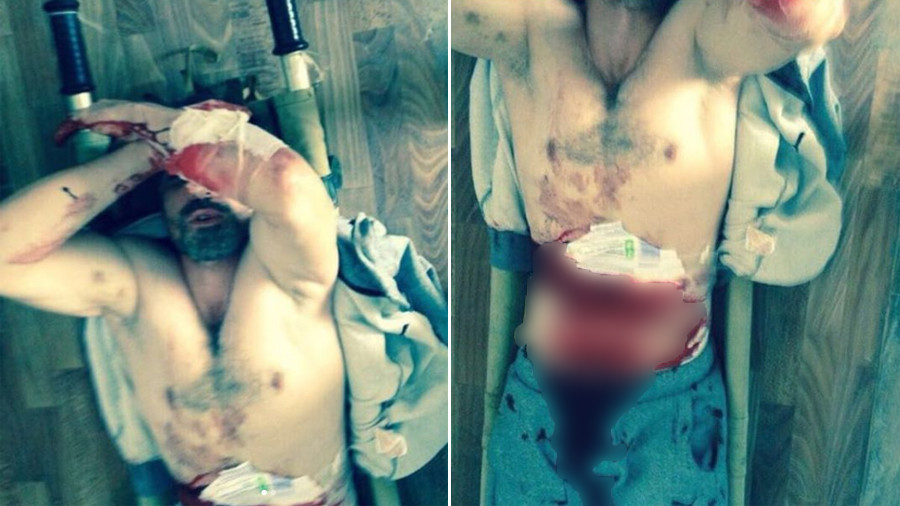 A video of detained amateur MMA fighter Akim Kuliev cutting his stomach in his cell in Russia's Republic of Dagestan has surfaced online. The athlete, who was arrested on suspicion of arson, denies his guilt.
The security camera footage which appears to have been videoed last week was uploaded on Wednesday by the local news outlet. In the chilling footage, the unflinching man is seen cutting his own abdomen and arm. He then walks from corner to corner as blood streams down his body.
A while later doctors attended to the suspect, stopping the bleeding and bandaging him.
WARNING: You may find the following footage disturbing.
Kuliev's relatives and friends claimed that the man opted to undertake the desperate move due to being tortured by the police, who are allegedly pushing for the athlete to acknowledge the crime he didn't commit.
The man is a friend of famous UFC fighter Khabib Nurmagomedov, who took to social media, asking the authorities to protect his fellow athlete from the alleged abuse. Kuliev's father told the Kavkazsky Uzel website that his son is a "multiple champion of Dagestan in wushu-sanda and hand-to-hand combat, he also won international tournaments."
The Interior Ministry in Dagestan has denied torture claims, RIA Derbent reported.
READ MORE: Russian former champion kickboxer shot dead outside home in Germany
The fighter was among the four people detained in Dagestan's Rutul village in early November on suspicion of setting fire to the local administration building, which was burnt to the ground as a result. Kuliev denies his guilt, saying that he has an alibi and that the case against him was fabricated.