Trump's actions 'inertial & little different from Obama's,' says Moscow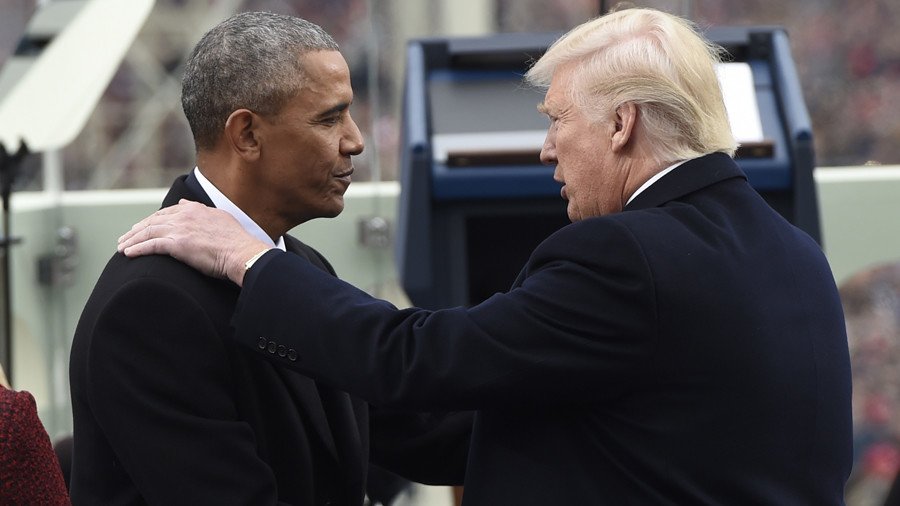 The policies introduced by the team of US President Donald Trump are similar to the actions of his predecessor, Barack Obama, Russian Foreign Minister Sergey Lavrov said, pointing to US sanctions on Russia and continued NATO build-up near Russian borders.
"Unfortunately, many actions of Donald Trump's team are inertial and, in fact, are little different from the line of Barack Obama," Lavrov said in an interview to Italian Libero newspaper, which was published on Thursday.
READ MORE: 'Haters & fools': Trump lashes out at those rejecting good relations with Russia
Washington has taken new unfriendly steps towards Russia in various spheres, Lavrov said, citing an example of the US implementing global anti-missile plans and deploying American and NATO troops near Russian borders. The US has also continued its unilateral sanctions against Moscow and efforts to discredit Russia's foreign policy, he added.
Washington apparently hasn't yet established its "coherent approach" towards Moscow, Lavrov said. "In the meantime, Trump still insists that he wants to normalize ties [with Russia]…"
Polarization of opinions in the US has reached an unprecedented level in the recent decades, according to the foreign minister. This "not only affects political and economic spheres, but also the entire spectrum of issues in public life," he said.
According to the top Russian official, the US is trying to achieve its anti-Russian goals at the expense of the European Union. "It has become obvious that sanctions imposed by Brussels bureaucrats, who act on Washington's orders, have now boomeranged back, delivering a blow on the European manufacturers. They have partially lost their positions on the Russian market and continue to suffer considerable losses." "Washington hadn't suffered major damage from sanctions because Russian trade with the US is insignificant," the Russian foreign minister added.
Shortly before his inauguration in January this year, Trump expressed openness to lifting sanctions against Russia that were introduced by his Democratic predecessor during an interview with the Wall Street Journal. "If you get along and if Russia is really helping us, why would anybody have sanctions if somebody's doing some really great things?" Trump said at that time.
Trump was speaking less than a month after then-President Barack Obama declared 35 Russian diplomats in the US "persona non grata" and gave them 72 hours to leave the country.
Despite Trump's apparent intention to build better relations with Moscow, and after months of contacts through various diplomatic channels that led to reassurances, he signed legislation in July that imposed new sanctions against Russia. The Trump administration later ordered the closure of the Russian consulate in San Francisco, California and two diplomatic annexes in Washington DC and New York City.
You can share this story on social media: