Drone-satellite hybrid could soon hover high within Earth's atmosphere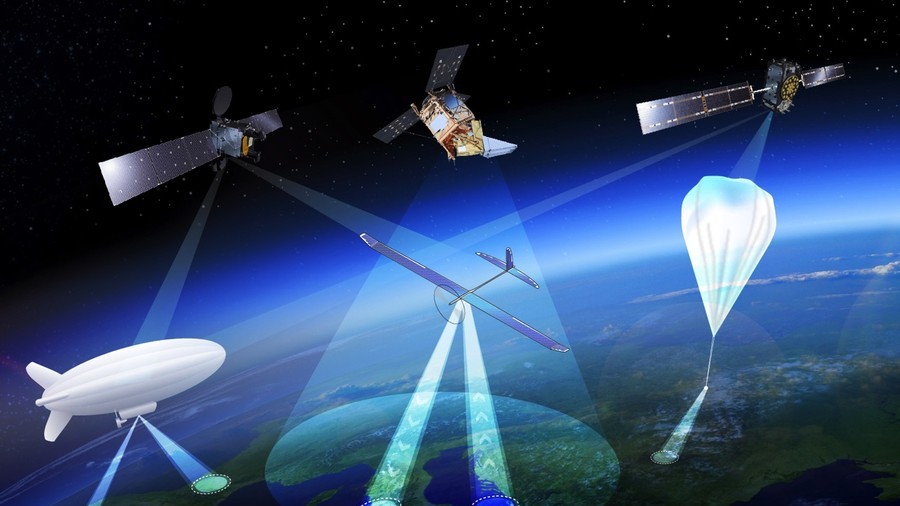 The European Space Agency has revealed plans to launch a new drone-satellite hybrid project to make continuous observations of Earth. The stratospheric platforms will be able to stay in a fixed position for months on end, constantly watching the area below.
The High Altitude Pseudo-Satellites (HAPS) will fly at an altitude similar to conventional aircraft, but operate more like satellites, according to a statement from the agency. The unmanned aircraft will not actually work from space but will remain high within Earth's atmosphere, monitoring the territory below.
Working from an ideal altitude of 20km (12 miles), the HAPS will be able to survey the ground to the horizon 500km away. This will allow them to conduct precise monitoring and surveillance, high-bandwidth communications or act as backup to existing satellite navigation services.
"For Earth observation, they could provide prolonged high-resolution coverage for priority regions, while for navigation and telecoms they could shrink blind spots in coverage and combine wide bandwidth with negligible signal delay," ESA future-systems specialist Antonio Ciccolella said.
HAPS will be considered for a variety of applications, such as telecommunications, maritime surveillance, environmental monitoring, land border control applications and of course emergency response situations.
"There's obvious potential for emergency response. They could also be employed semi-permanently, perhaps extending sat-nav coverage into high, narrow valleys and cities," navigation engineer Roberto Prieto Cerdeira said.
The concept is not new, according to Earth observation specialist Thorsten Fehr, who said that thanks to developments in key technologies, after 20 years it's finally becoming a reality.
These advances include "miniaturised avionics, high-performance solar cells, lightweight batteries and harness, miniaturisation of Earth observation sensors and high-bandwidth communication links that can deliver competitively priced services," he said.
READ MORE: Europe's Space Agency approves alien-hunt project
HAPS could take the form of airplanes, airships or balloons. A feasibility study is currently ongoing until the end of January to identify sustainable applications and services of it.
A number of HAPS development projects have recently reached more advanced development stages suggesting that first operational services could be expected by the period 2018-2022.