Mayor of German city stabbed in neck after taking in more refugees than quota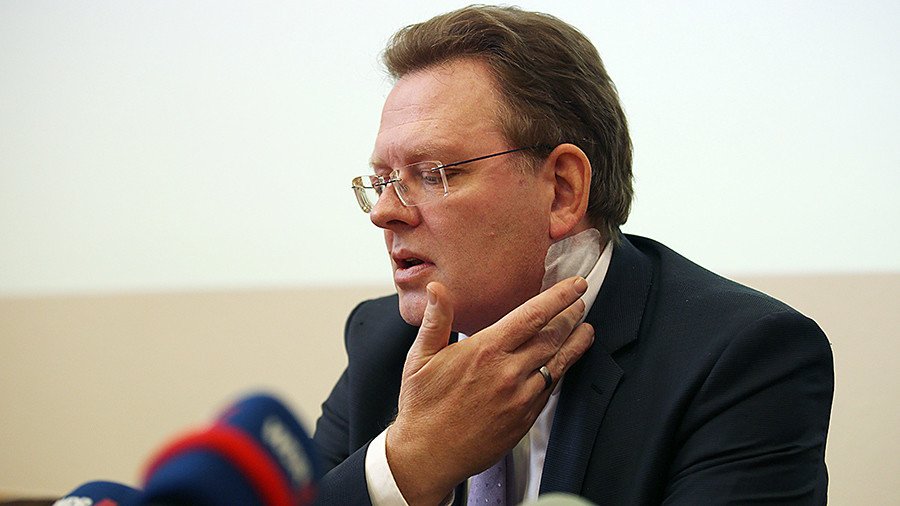 The mayor of the western German town of Altena suffered a slash to the neck in what security authorities believe was an attack with a "political motive." Under the current mayor, the town has accommodated more refugees than required by national quota.
On Monday evening, a reportedly drunk man approached Mayor Andreas Hollstein, who had gone to a downtown kebab shop to get a doner for his wife. According to German media, the man loudly criticized the mayor's policies and asked Hollstein if he was the one before pulling out a knife.
"You let me die of thirst and bring 200 refugees to Altena," he told Hollstein, according to the mayor, who spoke Tuesday at a press conference. The assailant then stabbed 54-year-old Hollstein in the neck with a blade, local police say, causing a 15cm-long gash. "Shoot me!" yelled the assailant, held by witnesses, when officers arrived. Hollstein was rushed to the hospital and released hours later.
"Yes, I feared for my life and I'm pretty sure I would not have it [life] anymore – if I had not had help," he confessed, saying it felt like it was his "third birthday," having also beaten cancer. "I was given another life yesterday."
The attacker intended to kill the mayor, according to the owner of the kebab shop, where the incident took place. The proprietor was one of those who caught the assailant and held him until the police arrived.
"The attacker asked the mayor whether he was the mayor, the mayor said 'Yes' and it happened very fast, he pulled out a knife. I think he took it out of his pocket, he put him in a headlock, and wanted to cut his throat completely," Ahmet Abdullah told Ruptly.
The attacker had an "alleged xenophobic motivation," a police statement reads.
"The security authorities believe that there was a political motive to this attack," North Rhine-Westphalia's CDU state premier, Armin Laschet, said. The offender commented on a migration issue, Laschet added.
Hollstein's wife had repeatedly warned him of a possible attack numerous threats against the mayor, he said. Still, he "will continue to work for people, both for refugees and for people who have been there before and will come, just as any other mayor."
"We have good, bad and normal people everywhere," he added.
Hollstein's liberal policies towards asylum seekers have earned his city nationwide fame. Altena, with the population of some 17,300, received the National Integration Prize from Chancellor Angela Merkel for taking in extra refugees and assisting them under a special program. "I believe we are leading Germany towards a bright future - that future is diverse," Hollstein said at the time.
However, not everybody in Altena seemed to welcome the policy. In 2015, a firefighter and his accomplice set fire to a house, into which a group of Syrians had just moved. The arsonist later admitted that he didn't want any refugees in the neighborhood, fearing "thefts, burglaries or sexual assaults."
Following the Monday attack on the mayor, Chancellor Merkel said she was "horrified," via her spokesperson in a Twitter post.
Kanzlerin #Merkel: "Ich bin entsetzt über den Messerangriff auf Bürgermeister Andreas Hollstein - und sehr erleichtert, dass er schon wieder bei seiner Familie sein kann. Dank auch an die, die ihm geholfen haben." #Altena

— Steffen Seibert (@RegSprecher) November 28, 2017
You can share this story on social media: