Man stabs German mayoral candidate in the neck over refugee policy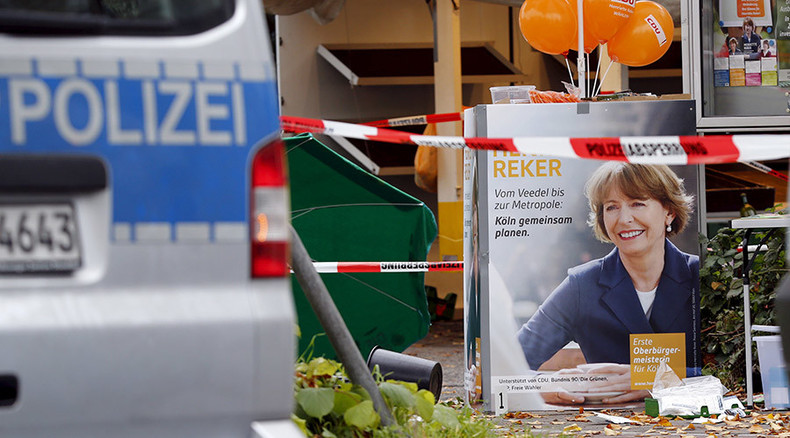 A leading candidate running for mayor of the German city of Cologne has been stabbed in the neck and seriously injured just a day before the elections. According to police, she was attacked because of her support for German refugee policy.
Henriette Reker, an independent candidate running for mayor of Cologne, was attacked by a man armed with a "20 centimeter-long" knife when she stopped at an information stand for the Chancellor Angela Merkel's Christian Democratic Union party (CDU). Her aide as well as three other people that tried to stop the attacker were also injured in the incident.
"She had arrived here just a few minutes before ... She was talking to two other party members when it happened," Bernd Petelkau, a local CDU official, said as quoted by Reuters.
The incident took place around 9:00am local time (7:00am GMT) at a Sunday market. Reker was severely injured in her neck and torso, and was immediately transported to hospital to undergo emergency surgery. There are conflicting reports about the current status of her condition.
Reker's election campaign team claimed on Twitter that her injuries were not life-threatening. At the same time, German Focus news reported that she was severely injured and her life is still in danger, citing police sources. Bild also claimed that her "condition is critical."
"At the moment she is stable but not out of the woods yet," Cologne Police Chief, Wolfgang Albers, said at a press-conference on Saturday.
According to the most recent statements, she feels "definitely better" after the surgery and her health is improving, according to local media citing medical sources.
Two other politicians, Anette von Waldow, from the liberal Free Democratic Party, and Marliese Berthmann, head of the CDU's local office, were also wounded in the attack.
The attacker, identified only as Steffen F., was arrested by police. He appeared to be a German citizen, 44, who has lived in Cologne for the last 15 years. He was a house painter and lacquerer but was unemployed for large chunks of time.
Norbert Wagner, head of the police criminal investigation unit in Cologne, told a press conference that the man had acted alone and police had no evidence that anyone else was involved in this crime.
He also added that the attack on Reker was "targeted and deliberate" and was motivated by "xenophobia."
Henriette Reker is an acting deputy mayor for social issues and, in particular, she is responsible for taking in and accommodating refugees in Cologne as well as for providing aid for them.
In his plea, the attacker claimed that he committed the crime because he opposed the refugee policy conducted by Reker as well as by Angela Merkel. "I have done it because of the Reker's refugee policy," he shouted out immediately after the attack, German Tagesspiegel reports citing the witnesses.
"I have done this for you. I had to do this. I want to protect the society from such people," he said addressing people at the market, as quoted by Tagesspiegel. According to police sources, after attacking Reker, the man gave in to police without any struggle.
The incident evoked a wide response, with many German officials and politicians condemning the attack and voicing their support for Heinriette Reker. German Chancellor Angela Merkel said she was shocked by the assault and wished Reker the best of health.
Reker's main rival, Social Democrat Jochen Ott, suspended his election campaign in the view of the attack and promised to wait "until her receives more information about her health conditions," as he wrote on his Facebook page.
At the same time, the elections commissioner, Gabriele Klug, said during the press-conference that the elections would take place on Sunday as scheduled, despite the attack. She addressed the voters and urged them "to exercise their right to vote despite this awful incident."
Henriette Reker is running as an independent candidate in these mayoral elections, although she enjoys support from Angela Merkel's Christian Democratic Union party, the Greens and the Free Democrats.
LISTEN MORE: