ISIS propaganda images suggest Europe faces winter terrorist threat – reports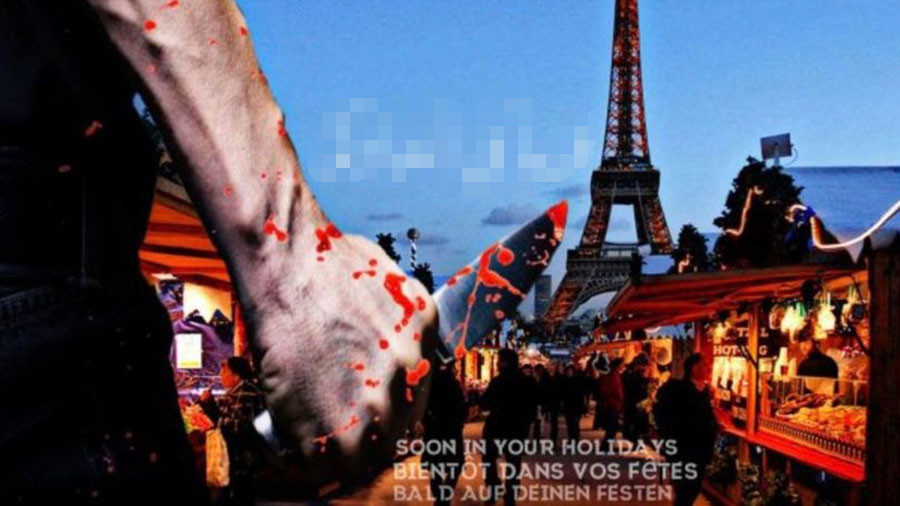 Distressing images allegedly intercepted from messaging apps used by extremists have been shared by media. Festive scenes in European locations are depicted darkened by themes relating to blood-spilling attacks.
According to at least two propaganda posters, Islamic State (IS, formerly ISIS/ISIL) is planning attacks on cities in the UK and France. One of the images given exclusively to the Epoch Times multi-language newspaper by a darknet intelligence company, BlackOps Cyber, earlier this week shows a hooded figure standing over a kneeling Santa in what appears to be London's popular Regent Street.
RT has blurred the captions on the pictures as they contain calls for extremism by IS. The terrorist group is banned in Russia.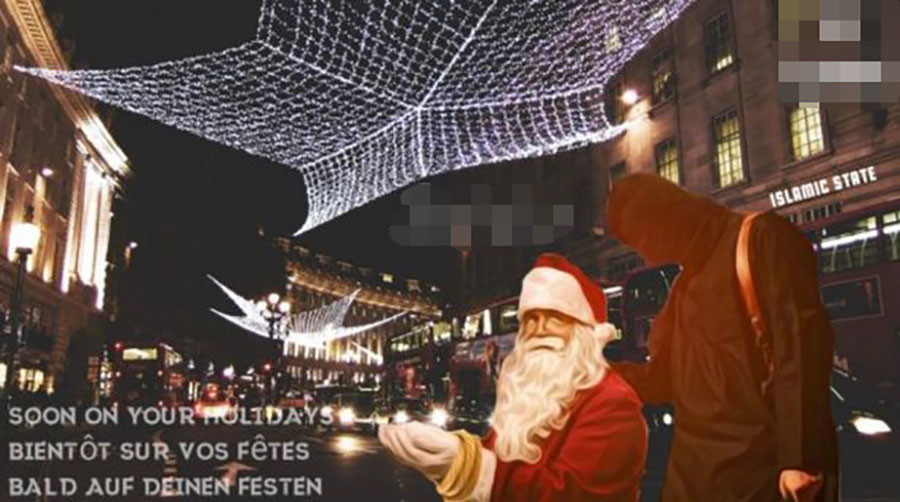 Online activists claimed they had obtained the picture from a terrorist instant messaging chat, adding that it's the first time they have seen this particular poster. The image also features a message in three languages (English, French and German) that reads "Soon on your holidays."
READ MORE: Pro-ISIS propaganda poster depicts 'beheaded' Pope Francis
Another poster widely shared by British media this week depicts a Christmas market with the Eiffel Tower in the background, overshadowed by a blood-stained, knife-wielding hand. Earlier, a menacing poster depicting an apparent jihadist with a "beheaded" Pope Francis and a message reading "Christmas Blood" was revealed by another intelligence group that tracks the online activity of extremists.
The latest leaked posters have surfaced amid a reported large-scale police operation in Germany. Six asylum seekers suspected of being members of the terrorist group and plotting to target a Christmas market were detained this week in several German cities. However, the suspects were then reportedly freed due to a lack of evidence.
On Monday, the Russian Foreign Ministry issued a warning, urging those traveling to European and US cities between December 20 and January 20 to exercise caution. A brief message posted online said that there is an increased probability of terrorist attacks during Christmas and the New Year in popular destinations.