Pro-ISIS propaganda poster depicts 'beheaded' Pope Francis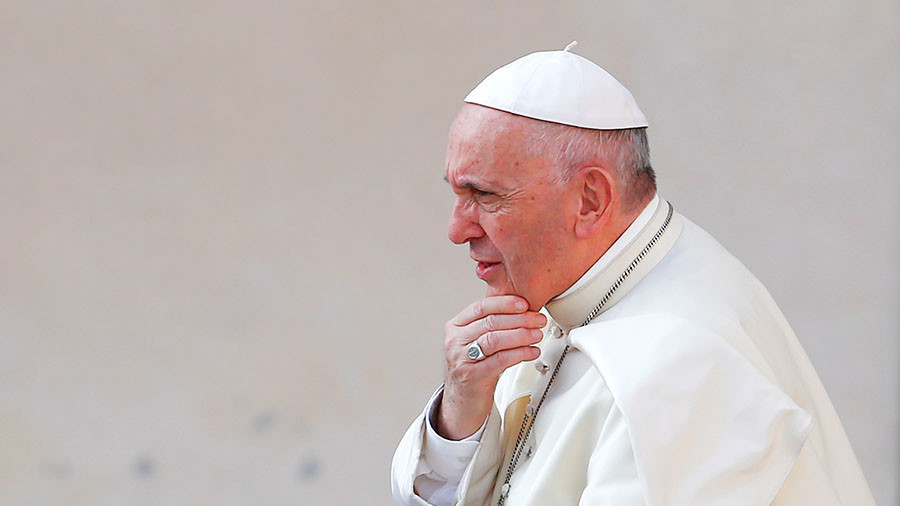 A pro-Islamic State media group has threatened Christians and published a menacing poster depicting a masked jihadist with a "beheaded" Pope Francis. Last week, jihadist supporters allegedly vowed to launch a Christmas terrorist attack on the Vatican.
The poster was revealed on Friday by the SITE Intelligence Group, a Maryland-based company that tracks the online activity of extremists. The image released by an unidentified pro-Islamic State (IS, formerly ISIS) media group shows a masked figure, apparently a jihadist, standing with a knife in front of damaged buildings, mostly skyscrapers.
The extremist is seen standing over the body of a prisoner in orange jumpsuit, with an image of the Pope's head superimposed on it.
"It's not surprising to see threats like this against Pope Francis and Christianity, especially during the holiday season. ISIS and its supporters know how to play the media game, and often time the releases of their threats to get the highest amount of attention as possible," SITE Intelligence Group Director Rita Katz told Newsweek on Monday.
Earlier in November, a pro-IS group known as Wafa Media Foundation allegedly vowed to launch a Christmas terrorist attack on the Vatican.
Another pro-ISIS group on Telegram recently released a poster showing a Santa Claus hat and beard, threatening lone-wolf attacks during Christmas and New Year.
In 2016, Anis Amri, an IS supporter, rammed his truck into the Christmas market in Berlin, leaving 12 people dead and dozens injured. The perpetrator, who turned out to be a rejected asylum seeker from Tunisia, was killed days later in a shootout with police near Milan, Italy.