Erupting Bali volcano spews huge column of ash, forcing airlines to re-route flights (VIDEOS)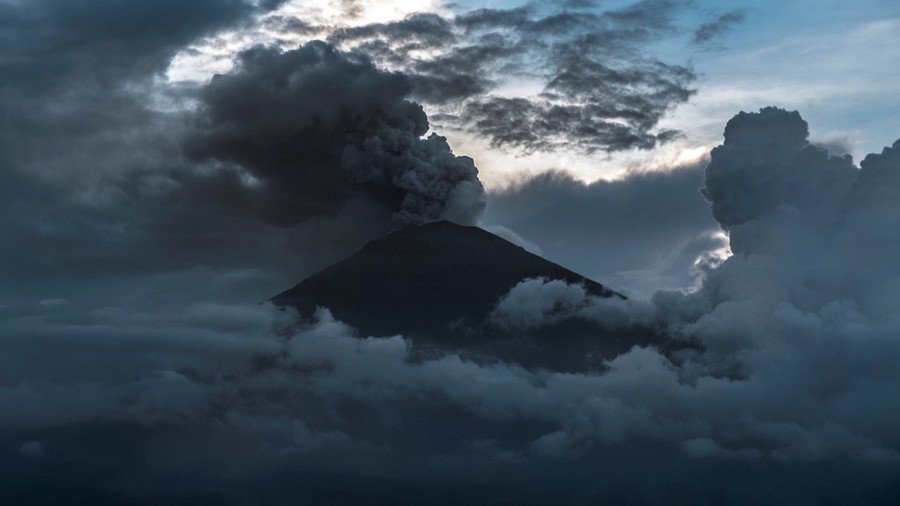 The Mount Agung volcano, on the Indonesian island of Bali, has erupted for a second time in less than a week, firing a column of ash 1,500 meters into the air.
The eruption emitted a bigger ash cloud than Tuesday's blast. It caused several airlines - including, KLM, Qantas, AirAsia, and Virgin - to cancel or rearrange flights in the region.
"Tourism in Bali is still safe, except in the danger (zone) around Mount Agung," Indonesia's Disaster Mitigation Agency (BNPB) said in a statement.
"There has not been an increase in seismic and volcanic activity after the (Tuesday) eruption until this afternoon," the statement read.
BNBP spokesman Sutopo Purwo Nugroho shared an image showing a burning red glow at the top of the volcano, as the agency also urged the people in the vicinity of the mountain not to panic.
Terlihat nyala api atau bara di puncak Gunung Agung pada 25/11/2017 pukul 23 WITA. Asap kelabu hitam masih terus keluar dari kawah. Tim PVMBG masih terus menganalisis dan memantau intensif erupsi Gunung Agung. pic.twitter.com/LBGe6xkBj4

— Sutopo Purwo Nugroho (@Sutopo_BNPB) November 25, 2017
Tens of thousands of people have fled their homes in recent months over fears of potential destruction an eruption could bring. More than 1,000 people were killed when the mountain last erupted in 1963.
Despite the cancellations JA Barata, a spokesman for Indonesia's Transportation Ministry, said flights in and out of Bali remained "normal."
"Tactical guidance for departure and arrival aircraft has been applied. This hasn't endangered any flights," he said, according to Reuters.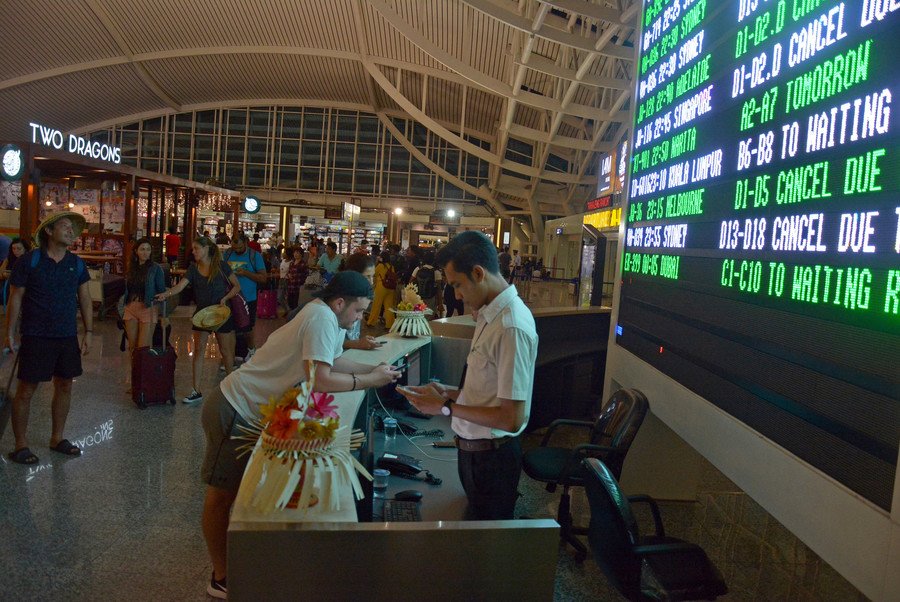 The volcano on the island, which is a hugely popular tourist destination, became active in August. Authorities raised the alert to the highest level and ordered the evacuation of people living within a 12-kilometer radius around Mount Agung, forcing some 130,000 residents to leave their homes in September and October. But in recent weeks, volcanic activity on Agung had been slowing, with authorities lowering the alert status to the third highest classification and the number of evacuees living in shelters decreasing to roughly 30,000 people.
You can share this story on social media: