Chained, tortured & raped: Italian abuser kept woman as slave, made her bear 2 children in cellar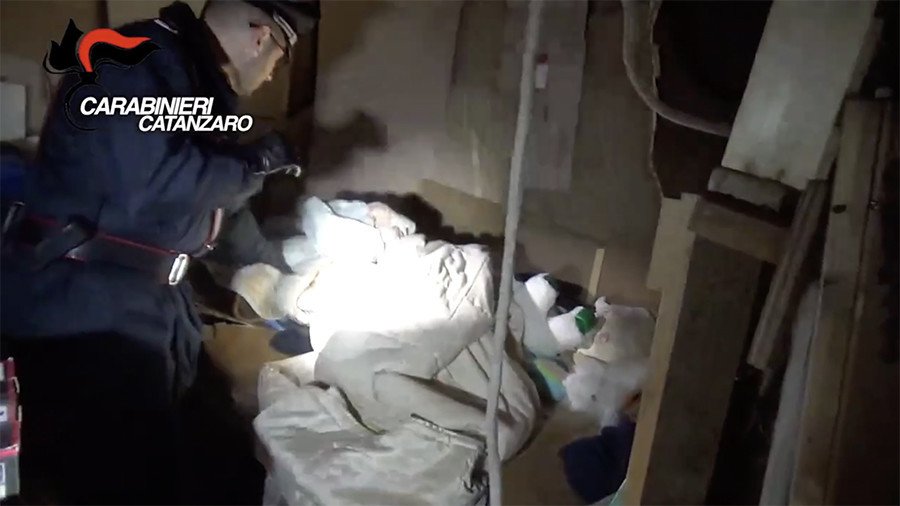 Italian police rescued a woman who had been held in an underground cellar and repeatedly raped and tortured for 10 years. She gave birth to two children from her abuser, who chained her to a bed and even forced her son to attack her.
Police found the victim, along with her two children, a three-year-old girl and nine-year-old boy, near the town of Gizzeria, southern Italy, the authorities said in a statement on Wednesday.
The Romanian woman, whose name hasn't been released, was 19 when she arrived in Italy to take care of an elderly lady, La Repubblica newspaper reported. However, when the lady died, her son began to abuse the Romanian care worker.
For 10 long years the victim was kept in several apartments before being moved to an underground cellar in a building near Gizzeria. Her bed was made of cardboard boxes and instead of a toilet she had a garbage bin. The dirty cellar was also reportedly infested with vermin. To prevent the woman from fleeing, the captor, a man in his 50s, secured the door with a large chain.
After years of abuse, the woman gave birth to two children. She apparently bore them in the cellar without any attendance from doctors. She also went without treatment for the injuries she suffered from almost daily violence, which reportedly involved beatings and lacerations caused by a fishing line. The children also reportedly watched the chilling abuse, and it is alleged that the attacker forced the woman's young son to join in with torturing her.
READ MORE: Texas woman burned stepsons' tongues with lighter as punishment, court hears
The boy attended a school and on several occasions the captor took him on a ride in a car. It was those journeys which caught the attention of the local police. During a routine stop, officers noticed that the child appeared unwashed and demanded to speak to the boy's mother. When police visited the man's house, they discovered the cellar where the woman, now 29, was being held.
Footage released by police on social media shows the cellar interior where the victims were kept. Broken chairs, cardboard boxes and rubbish can be seen scattered around, while out-of-date packaged food and moldy loaves of bread are seen stacked in a metal barrel.
The man has been charged with "family mistreatment," "slavery" and "sexual violence," police said.
You can share this story on social media: